get elephant's newsletter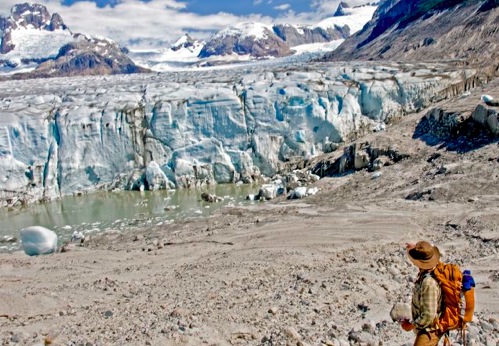 Note: Anna Brones and Emily Nuchols of Under Solen Media are reporting daily from this winter's Outdoor Retailer. Follow along as they check out who's who and what's what in the outdoor industry.

You can also follow live their Twitter updates here.
At every Outdoor Retailer the Conservation Alliance hosts a breakfast. If you don't know about the C0nservation Alliance, it's a group of outdoor industry brands committed to giving back to the outdoors. Member companies pay annual dues and the Alliance grants the money to environmental non-profits around the country.
Since its founding in 1989, the Alliance has contributed close to $9 million to conservation projects throughout North America. The results of the Alliance's funding have been remarkable. Their grants have helped protect more than 50.5 million acres of land, stop or remove 28 dams, and preserve access to thousands of miles of rivers and several climbing areas.
Back to the breakfast.
The unofficial motto is "arrive tired, leave inspired," which is fitting given the 7am start. But the early start is well worth it, as the breakfast highlights the conservation successes of the year and features a speaker.
This year they welcomed author Craig Childs.
Sometimes being inspired to take action doesn't happen because of depressing statistics, it happens because you are simply reminded of how special a place is. Through photos that ranged from the dry Atacama Desert to the plentiful waters of the Rio Baker in Patagonia, Childs focused his whole presentation on water, taking us on a poetic journey meant solely to get us thinking about those places that we love.
It's easy to say that his presentation The Secret Knowledge of Water moved the room; in fact it's one of the best presentations I've seen and been inspired by. As Childs said, "water carries a landscape, water carries stories." That's a powerful notion, to say the least.
Childs has been steeped in water issues, recently returning from Patagonia, where he took part in the Rios Libres initiative, documenting the adventure and beauty of the Rio Baker, scheduled to be dammed in 2013.
Some of the most moving quotes from his presentation:
"We cannot take this entire planet. These last [rivers] are sacred. They are precious."

On dams: "We cannot take this entire planet… [There have to be places] that don't smell like us."

"It is a powerful thing to find water even if it's not water you can drink."

"If you want to know a landscape, you drink its waters."
And it's while listening to quotes like these, and being temporarily transported to those precious, wild places, that I'm reminded why I do what I do, and I'm certain that I wasn't alone.
Image: Craig Childs watching a huge chunk of ice falling 20 stories down the Neff Glacier. By James Q. Martin