get elephant's newsletter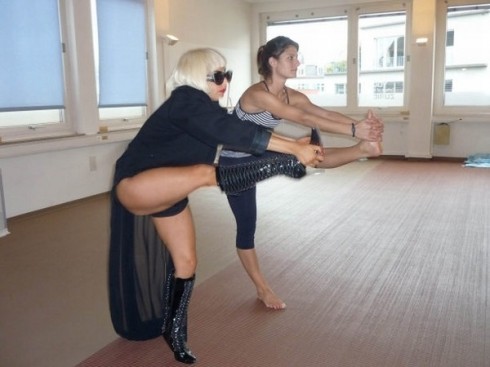 It is no secret that Lady Gaga loves her yoga.  She has been seen at studios all over the world practicing yoga in her undies, and walking out of class in her outrageous outfits.  In fact, The Lady recently told a Sirius radio show called "The Morning Mash Up" that she stays fit with a unique combination of alcohol and asana.  The Gagmeister appeared on the show only a few days after the Grammy Awards, where she arrived to the ceremony in a plastic egg.  In response to how she keeps her apparently enviable figure, Gaga said:
I am on the drunk diet…I live my life as I want to, creatively. I like to drink whiskey and stuff while I am working. But the deal is I've got to work out every day, and I work out hung over if I am hung over. And it's about the cross-training and keeping yourself inspired. I have to say, I do a ton of yoga.
So, let's hope that her drunken yoga practice catches on as well as her penchant for wearing her skivvies around town has…