get elephant's newsletter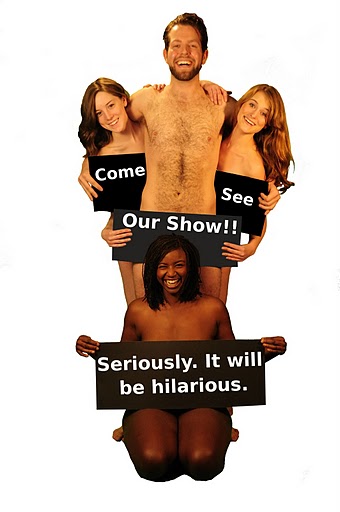 Meat & Potatoes
An Adult Evening of Shel Silverstein will open at The Performance Space in Wesley Chapel (1290 Folsom Street, Boulder, CO) on Friday, February 11th at 7:30 p.m.

Directed by Tyler Pelo
Starring: Mickey Alpert, Alison Banowsky, Evan Duggan, Karli Kaiser, Laura Kruegel, Alexandra Lewis
I remember in fifth grade, getting into a heated debate with a classmate over who was the more influential, prolific and valuable of two geniuses: William Shakespeare or Shel Silverstein. I of course, being the snobby snob that I was at that time, argued for the former. I was shocked, even at the age of 11, to hear that anyone would give some silly, kid's poet precedence over the Bard. And I neglected to ever give Shel a second chance, or any chance at all to be honest, until I got really drunk one night 10 years later and pulled The Giving Tree off of a friend's shelf. Now, it could've been the cheap whiskey that made me finally realize after years of resistance that Uncle Shelby really is worth a damn, but I think it was the purity of the language that was finally able to shine through to me after I had lived a few years and learned a few things.
So it comes as no surprise to me that Shel penned a number of short, off-beat, one-act plays for adults only that have come to be performed collectively under the title "An Adult Evening of Shel Silverstein." It's "brazen," "zany," "colorful," "cathartic," and it's being staged in Boulder's Wesley Chapel beginning this weekend! That's right, the people at Devil's Thumb Productions have been working tirelessly to bring to you their own, unique performance of Shel's theatrical works and on Friday night, I had the exquisite, toe-curling, lower-lip-biting, back-arching, quiver-inducing, butt-clenching pleasure of getting to take a sneak peak at their upcoming performance.
Directed by Tyler Pelo, and performed by a tremendously talented and charismatic ensemble, this particular staging of "An Adult Evening" gives us a whole new perspective on the work of Shel Silverstein. It's hilarious at times, heartbreaking at others, and pretty much always amply uncomfortable. More than anything though, it's truly exciting theater. I don't want to get too ahead of myself but, the format of the play, the spot-on comedic timing of the actors combined with Pelo's organic and insightful direction reminds me of the brilliant and dryly hysterical Kids in the Hall.
Laura Kruegel, a cast member and marketing director for Devil's Thumb Productions, advises audiences to be "prepare[d] to see Shel's creativity upped a notch, used in twisted ways and with adult themes." It certainly possesses the same childish accessibility as much of Shel's poetry, but it's "emotionally adult." Kruegel went on to say that, "The play is hilarious, but it's also intellectual which a Boulder audience can appreciate since it's such a well educated town. People love Shel Silverstein, and it's fun to see the other side of his creativeness, to see it on a different level."
At Friday's performance I was altogether shocked, surprised and inspired by the collision of styles that the play puts forth–adult themes being expressed through childish language, and even the other way around–and at how adept the cast is at capturing this dichotomy. As artistic director Alex Hughes put it, "Even in his children's poems, Shel Silverstein flips what we think is normal, distorts it and makes it fun, interesting and different. Nothing is as it seems." In my opinion, he hit the nail on the head when he said "fun, interesting and different." These seem like simple words but I think there are none better to describe the experience of this play.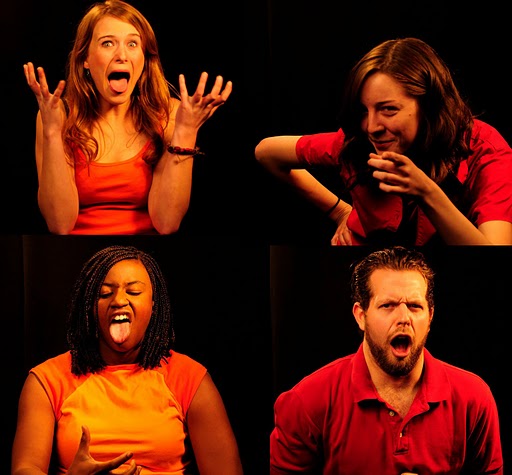 (Clockwise from top left: Kruegel, Banowsky, Alpert, Lewis)
But enough with the fancy analysis, the important thing about it is that it's funny (like laughed-until-I-cried at moments funny), it's well-acted (I really can't say enough about how amazing these actors are), and it's good. What more do you need? If a hundred different synonyms for the word "boob" is your answer to that question, then this is the show for you. If you (or somebody you know) have ever been accused of becoming a bag lady, then this might be the show for you. If you've ever wondered how a conversation with two highly articulate, expertly rhyming prostitutes might unfold, then this is probably the show for you. Talking dogs. Women for auction. Mustaches galore. More funny voices than you shake a lollipop at and if you have any desire to understand why the headline of this review reads "Meat & Potatoes," then this is definitely the show for you. So I'll ask that question one more time: what more do you need? If I were you, my answer would be "tickets to the show!"
An Adult Evening of Shel Silverstein runs February 11-12 & 17-19 at 7:30 p.m. There will also be a special Valentine's Day Performance on February 14 at 8:00 p.m. This romantic evening will feature a special setup for couples with a sexy dessert tapas tray shared over candlelight, music to set the atmosphere, a raffle featuring various romantic packages, and other zany surprises throughout the evening.


Tickets are $12-$25 and can be purchased by visiting the company's website. For news and more information about the upcoming season, visit www.devilsthumbproductions.org.
René Cousineau was born and raised in Glenwood Springs, CO. She currently lives in Boulder and is a student of fiction writing and Russian literature. She spends her time reading, cleaning, hiking, dancing, and slinging cupcakes at a local bakery/coffee shop.