get elephant's newsletter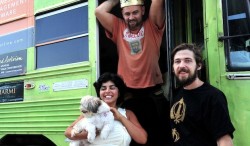 With over 108 stops in 27 states during the course of 12 months the I Love Yoga: Green Bus Project brings yoga to studios, conferences, campuses and festivals in a unique way. Get in touch with the founders of the Green Bus Project, learn the challenges of life on the road, discover wonderful ways to make dynamic, positive change in your life and the world. All this and more during this interview with yogis Moses Love and Zeina Smidi.
Connect with the Green Bus Project via Facebook.