* Elephant Journal articles represent the personal opinion, view or experience of the authors, and can not reflect Elephant Journal as a whole.
One woman's view.
(1) Going under anesthesia is no joke. You could die. Let me say that again: you could die, even at the hands of a competent, board-certified surgeon. It is rare, but possible. If I found out I had to have major surgery, I would freak out. Do you willingly want to put yourself through that stress? Look in the mirror and ask yourself if you are willing to die for fake tits.
(2) It will hurt. A lot. The intense pain and numbness around your breasts may last for days, weeks, months, years, or forever. Yes, forever. There is no way to predict how your individual body will react to this intrusion. Ouch!
(3) Getting implants is like buying a new car. Cars don't last forever, and neither do implants. Sometimes you get lucky and get ones that last for several years, but most implants do not last that long, even the expensive ones. Eventually, you will have to go back under the knife and face the risks (and pain) of surgery. Again.
(4) It is going to be ridiculously expensive. Budget out more than one surgery; the doctor may not get it right the first time, or there may be a complication after a few weeks. Also, you may want the implants removed someday, which is an additional cost. Insurance does not cover these costs. In addition, if you are not on a group insurance plan from your job and you are seeking individual insurance coverage post-surgery, you are probably screwed. Health insurance companies look at silicone breast implants as a "pre-existing" condition, and they will put you in the high-risk pool, thereby tripling the cost of your insurance.
(5) You may think people won't judge you, but they will judge you. Fake boobs are something you will be silently judged for by both men and women. I'm not saying it's right, but it will happen.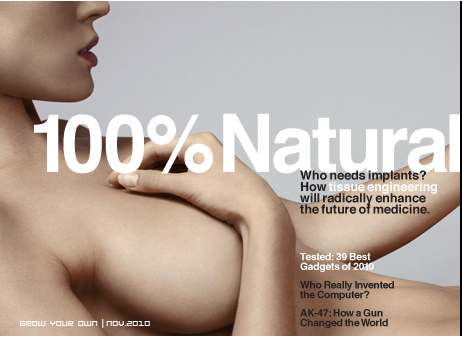 (6) Attitudes change with time. If you are in your 20s, you will grow and mature beyond what you can imagine now when you near the age of 30. This is happening to me (again) as the big 4-0 looms around the corner next year. Attitudes are bound to change.
(7) You will get lots of attention based on your breasts. Duh. This is why you're considering major surgery. But consider also that you want to be respected for your brilliant mind, too, not just your tits. It will be frustrating when you are perceived as a sex object and little more.
(8) Some implant cases are more understandable than others. If you've had a mastectomy or if you have a completely flat chest, like a 12 year old boy, for instance, implants may make you feel more womanly. They may. They may not.
(9) Not all loveres like fake boobs. In fact, it is a serious turn off for some because it says a lot about a woman's self-esteem, which appears to be externally derived. You could meet that great guy, but alas, he may not be able to get beyond the idea that your boobs are fake. They feel different to the touch than natural breasts and could very well be a psychological barrier to building intimacy with your partner. Along with that, many guys don't care about boob size, contrary to how the media portrays them.
(10) Look at your natural breasts, touch them, and try to perceive their beauty. If you are considering implants, you obviously do not see your natural breasts as beautiful. Ultimately, you want to replace them with ones you think will be more pleasing. If you look at images of women's natural breasts from the past, you can take yourself out of the context of this era and see natural breasts as a thing of beauty and sexiness, regardless of size.
(11) Research by the National Cancer Institute has found that women with breast augmentation are more likely to die of brain cancer or lung cancer compared to other plastic surgery patients. Pretty self-explanatory.
(12) If you can't stop thinking about fake boobs, consider refocusing your attention. When I find myself obsessing about an aspect of my body, such as my imperfect butt, I am not putting my attention where it needs to be in that moment. I was born and developed in a certain way, specifically designed to do certain work. Work that will save me, repeatedly.
For me, it is writing. Writing gives me the one-pointed focus that calms my mind and centers my thoughts. This focus allows me to produce great writing (sometimes), which actually puts my whole being at ease. This sense of ease emanates from a deep place, beyond the body.
When you consider something like getting breast implants, you are essentially taking your eyes off the prize in life. And you doom yourself to a body-centered existence that will make aging an even more difficult process, and you will constantly strive against it. All bodies age and perish; there is nothing to hold on to, as much as we try by using artificial methods such as breast implants.
What you really want and crave has nothing to do with anything outside of you. It is the source of your own enthusiasm and the pathway to peace on the inside.

Image. Wikimedia.