get elephant's newsletter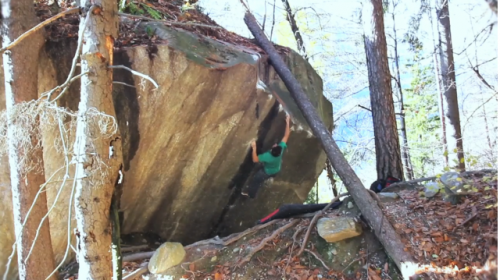 If you ever wanted an insider's perspective of the world of climbing…
…or just to see some badasses perform inhuman feats of strength in the middle of scenic Switzerland…check out this free documentary. Pretty incredible production values, too.
Grab some (organic, local) popcorn and set those phones to silent:
Louder Than 11 in association with Traversi Entertainment present "The Swiss Account", a documentary climbing film about the lives of three American friends bouldering in Switzerland during the fall of 2010. Follow Boulder residents, Jon Glassberg, Connor Griffith and Carlo Traversi as they climb on some of the world's finest Granite boulder problems in Brione, Cresciano, Chironico and Magic Wood. Special guests Paul Robinson, Alex Puccio, Dai Koyamada and Adam Ondra join forces with the American team to climb over 40 boulders in the mountains of Southern Switzerland.  Sit down, grab a snack and enjoy the crazy antics of these exciting characters as they experience what they Europe has to offer.
You can download the video
here
, and take a gander at Louder Than 11
here
. And lastly but not leastly, check out featured climber and elephriend Carlo Traversi's blog,
here
.