get elephant's newsletter
"As members of a thriving online social media community, we're a mindful mouse click away from manifesting new relationships and unlocking our Dharma Code as we give voice to our life purpose."
In April 2010, I received a call from a woman named Jessica Durivage, introduced by a mutual contact (Jess's brother Mickey Durivage) with his suggestion,"You two should really talk. You're both into the whole yoga thing, and you've got tons of energy. I can see you guys hitting it off." Our very first phone call lasted close to an hour, indeed encompassing all things yoga and so much more. There was just something about this woman on the other end of the phone, calling me from several states away and who I'd never met in person, that resonated deeply with me. It could have been the effervescence of her voice, or her thoughtful questions signifying her genuine interest in getting to know me. Fast forward a few months and Jess invites me as a guest on her weekly online radio show, Where Is My Guru. I'm thrilled. Fast forward yet again and I'm co-hosting the show in Jess's absence with elephant journal bad boy (having racked up negative points on his comment rating scale as exemplified in one particularly heated post), fellow WordPress blogger Metal Yoga. That was a fun show. Fast forward again and Jess invites me to partner with her as her regular co-host on Where Is My Guru. Gulp. And glee! Co-host of a radio show = dream come true. My days of watching WKRP in Cincinatti paid off. Someone ship me a full-body rubber carp suit.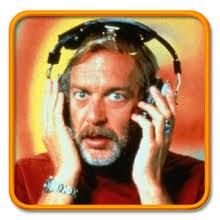 Since Where Is My Guru's inception as a co-hosted caper, Jess and I have self-produced approximately thirty shows featuring guests the likes of seva champion Beryl Bender Birch, Academy Award®-winning documentary producer and director Gerardine Wurzburg, yoga and meditation master Rod Stryker, poet and non-profiteer HawaH, and so many more incredible folks and organizations. I'm not sure if there's a way to underscore this tremendous feeling of gratitude other than to say, "My Heavens and Here Women Talk, Thank You for this amazing Gift of the Gab!"
My sojourn into the wonderful world of online social media is meant to underscore the opportunity that awaits all of us through the power of making connections and building community, and in no small part thanks to the elephant journal sangha of which we each belong. As members of a thriving online social media community, we're a mindful mouse click away from manifesting new relationships and unlocking our Dharma Code as we give voice to our life purpose.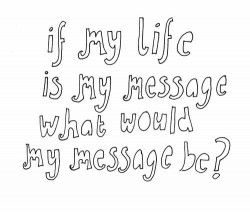 I'm honored to announce that Where Is My Guru has submitted a panel discussion to SXSW Interactive 2012–the popular festival to springboard once-upon-a-time new start-ups Twitter, Foursquare, and many more. Voting season is open…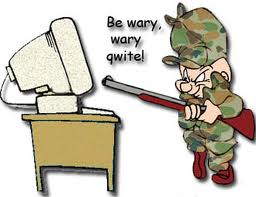 …and the SXSW team is greatly encouraged by any comments and votes you'd like to share on our panel. Our goal is to bring a mindful voice to social media through yogic principles with our discussion "Radio Free Yoga: Self Realize x Social Enterprise."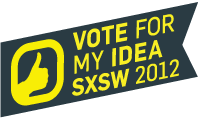 Like it? We hope so. After all, you've been our inspiration. Yes, you. Each and every one of you have given this blessed online social community the great gift your vision, voice, wisdom, and hashtags. You've shared your infidelities, pity parties, broken bits, and gratuitous porn. We love you like the family members we want to sit next to at Thanksgiving dinner, sidling right up against their heartbreak, hilarity, poignancy, and truth, including those who love meat in their mouths, and those who'd like to punch meat eaters in the mouth. It's one big happy family!
On behalf of my partner in crime, Jess D., thank you for being the wind beneath our wings as #WIMG soars with heartfelt intention and a somewhat nervous Mula Bandha toward a world-famous conference geared toward technological geniuses, entrepreneurial trailblazers, and smarty pants of just about every variety. We'll be taking you with us, ele crew, so pack your virtual bags and sing it if you know it…
If I'm laden at all
I'm laden with sadness
That everyone's heart
Isn't filled with the gladness
Of love for one another