get elephant's newsletter
A: The Impressionists' interest and application of scientific color theories – the changing effects of light and the study of tone and color – motivate my work. To me, the sun is the ultimate source of light, so it only seemed natural to pursue that source. My photographs explore the magical light during a sunrise or a sunset.
My sculptures are somewhat different. They depend on their environment and are forced to adapt accordingly.  When the sculpture captures light, it does so more gradually than a photograph, thus it is constantly changing as the light shifts.  In a way, I like to think of my sculptures as a translucent color surface that dissolves into light, or vice versa, the light becomes the sculpture.
I strive to offer the viewer a point of perception of my experience without containing it to a specific definition. I try to choose a time when, if I place my camera at the perfect angle, I am able to get the desired color temperature that captures the experience I am having. Viewing my photographs and sculptures is a uniquely personal and eternal experience, much like a memory.
A: There are many factors that affect the capture of light.  The time of day is determined by the precise location and kind of photograph I am trying to achieve.
Sunrises usually have a marine layer but the sky has fewer clouds. If you wait for just the right time, you can see a clear glow before the sun rises. The color temperature changes from cool to warm in the morning.
In a sunset, the colors are more saturated and you tend to capture shadows as opposed to when shooting directly into the sun.
This summer while in Montauk, I noticed that the colors from de Kooning's abstract paintings were very similar to color palette of the sky. This experience influenced my perception and my work.
A: I strive to portray my encounter with nature in the most honest way possible.  Each image depends on location and light quality. Sometimes, there are surfaces that speak directly to the sky and need their space on the image. Other times, the horizon pushes the sky further back. In some cases, the surface works as an anchor bringing the sky above me and toward the horizon.
My sculptures depend more on the environment in which they reside. If the skyline or the horizon can be seen or reflected through the piece, then both earth and sky are noticeable. However, if the sculpture is placed indoors, it will predominately reflect the light in that given space, much like a prism.
A: Science and spirituality are definitely methods I use to create an authentic reaction in both my photographs and sculptures.
As I mentioned, I'm very interested in the science of color theory. There is also a scientific aspect to my sculptures and how light behaves in and around them depending on their color.
I like to think that all of my work contains spiritual implications. With my photographs, I'm trying to capture something eternal through the elements of nature and hopefully initiate a feeling of connecting to the earth, sky, light and water. I am trying to evoke the same reaction in my sculptures. The wedges capture light and contain it within the material, while the color creates the quality and mood of the reflection. The physical experience ensues through the layers that are produced by light, resin and color, while the spiritual experience is the affect that this encounter has on the viewer.
Perhaps my work is a product of discovering truth, both spiritual and scientific.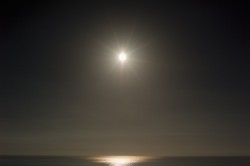 A: Memory is something that is made up of many facets.  The experience itself is one that evokes a very personal recollection. This is quickly followed by reminiscence of that moment in time. We are constantly shifting our memories as time passes and as we reminisce and recount our experiences. Memories are contained, while remembrance has an enduring quality. I'm more interested in memory as something perpetual. I think of remembrance, not as an ephemeral state, but rather, as an eternal one.
A: By identifying each work so specifically, I am attempting to document my life journey, to imprint it in my memory. My travels lead me to discover new terrain and encounter new experiences. There's an idea that develops through these experiences and it deserves a tribute or marking of some sort. My works are titled as an archive to remind me of the experience, both physically and spiritually.
Works are available for sale through M+B Gallery.
All photos copyright of Eric Cahan.