get elephant's newsletter
You know if schools used this tactic perhaps their would be more grammarians in the world 🙂  Heck, I might even get interested in proper grammar again…nah ;p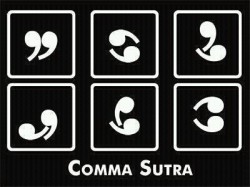 From the Amazon "about" section…yes it is a real book:
Boost your language libido with Comma Sutra! Filled with quickie faux pas fixes and kinky wordplay, this irresistible, offbeat grammar guide is instant grammar gratification.
Bestselling author and grammarian Dr. Laurie Rozakis will show you how to:
Assume the position-Sentence building made simple! This fun chapter gives you all the skills you need to write fabulous sentences.
Add spice-Modifiers are the spice of life. In this chapter, you'll learn to use effective adverbs and adjectives to seduce others through speech and writing.
Engage in fourplay-A kinky look at the four most annoying grammar pests and how you can overcome them.As entertaining as it is enlightening, Comma Sutra is guaranteed to stimulate your style chakras, perk up your paltry punctuation, and dominate your dangling prepositions-adding an orgasmic lift to your daily lexicon!