get elephant's newsletter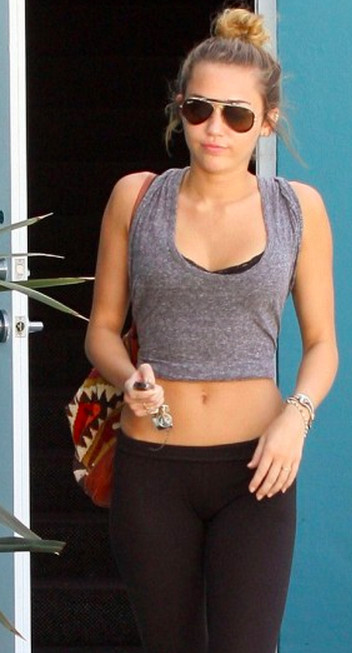 Miley Cyrus: "You can be adored by thousands of men, even when your thighs touch."
Miley Cyrus: Gluten-Free, Lactose-Intolerant, Fit vs. Thin, Anorexia & Body Image.
"It's not about Weight, it's about Health."

Marilyn's size fluctuated over the years. What didn't fluctuate was her comfort with her own body. Those were different times? True. But maitri is eternally essential–not just physically, but emotionally.

She varied in weight over her life, as you'll see in the photos. The point is–all of us vary, too, and we need to focus on making friends with ourselves, and being healthy—not on hating what we see in the mirror when it doesn't match up to what society tells us is "hot."
"There's nothing more important on our spiritual path than developing gentleness to oneself." ~ Pema Chodron
Via Huffington Post:
…19-year-old actress has been ramping up her workouts and sporting a thinner frame, but on April 8, Cyrus tweeted a photo of herself inhaling the contents of a Carl's Jr. takeout bag and wrote, "I can't eat it. So I'm just gonna smell the shittttt out of it! My mouth is LITERALLY watering."

The comment, coupled with her recent weight loss, caused concern for some fans.
So she responded with this tweet:

Love that.
Via Miley's own tweets:
"By calling girls like me fat this is what you're doing to other people. i love MYSELF & if you could say the same…you wouldn't be sitting on your computer trying to hurt others."
Back to Huff:
…she [then] posted a photo of an emaciated woman.

Miley followed up that tweet by posting a photo of Marilyn Monroe with the caption,

"PROOF that you can be adored by thousands of men, even when your thighs touch."
"Curves are beautiful." Fit is beautiful. Self-acceptance is brave, and beautiful.
>>> More Miley being surprisingly awesome.
Relephant reads:
~
~

Images. Huff Post (click images for link).
Elephant:Now
...is a new feature on Elephant Journal—enabling you to instantly share your mindful ideas, photos, art, YouTube videos/Instagram links & writings with our 5 million readers. Try it Now.