For more: how to make vegan dog food.
In 2002, the Guinness Book of World Records recorded the world's oldest living dog, Bramble, a 27 year-old vegan Border Collie.
Some people wonder if it's "unnatural" to omit meat from the diet of a dog.
Wild dogs are scavengers; a dog is, by genus, metabolically classified as a carnivore.
However, they are omnivores—which means you can safely raise your dog on a vegan diet.
In any case, if you are feeding your dog commercial dog food, then you could be jeopardizing your furry pal's health. Pet food often contains animal by-products deemed by U.S. Department of Agriculture inspectors as "unfit for human consumption." This includes the flesh of animals who fall into one of the categories of the four D's—dead, dying, diseased or disabled.
So why risk your pet's health when the nutritional needs of dogs are easily met with a balanced vegan diet and certain supplements?
If you like to cook, you can find vegan dog food recipes online, or simply purchase one of the many alternatives now available through retailers. However, there are some things that you should keep your eye out for when purchasing a food that will have your best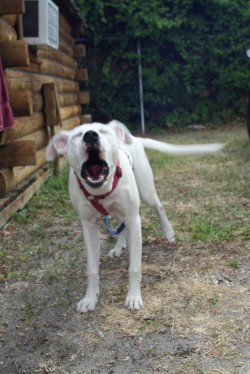 friend barking, "Go vegan!"
Be sure to look for taurine and l-carnitine in the list of ingredients; these amino acids are crucial for keeping your dog's heart healthy and strong. If a dog receives too little protein, calcium or vitamin D, his or her health could be jeopardized. Taurine and l-carnitine are amino acids not naturally occurring in plant matter and that dogs can't synthesize themselves.
Please make sure you supplement your vegan dogs with enough to prevent cardiomyopathy (disorders of the heart). A deficiency of these key nutrients can cause serious illness in which the heart can no longer function.
One of the best options on the market comes from V-dog. V-dog is a family operated, 24 percent protein, wheat free, corn free, soy free, non-GMO, no animal by-products brand that is less expensive than other, unhealthy brands on the market.
V-dog food has made the transition to feeding your vegan dog easier by ensuring the ingredients your dog needs in order to thrive, including sticking to ingredients you can actually pronounce: superfoods and berries, quinoa, brown rice, millet, vegetables, vitamin E, B vitamins, vitamin D, minerals, calcium, protein and essential amino acids.
With V-dog food your dog won't need any other supplements, but if you're in the mood to offer your pooch a little treat, then you can give him/her a big bowl of lentils, brown rice, oats, sweet potatoes, quinoa, millet or hummus. My pup loves to snack on strawberries and carrots, and absolutely loves peanut butter. To ensure they receive the necessary essential fatty acids (omegas 3, 6, & 9), add 1 teaspoon to1 tablespoon of a vegan oil blend, complete with total essential fatty acids.
When thinking about vegan snacks though, it's important to avoid onions, raw garlic, the pit and skin of avocados, as well as chocolate. Many of these foods are toxic to dogs and onions, in particular, can lead to the oxidization of red blood cells which could lead to anemia.
With the proper vegan diet your pup will be healthier than ever, and you will be doing your part to save the environment.
The amount of land, food, water and energy used to raise billions of animals for slaughter could be used to grow enough food for all of the starving people in the world. Factory farming comes with a great cost to our planet's resources.
It takes 2,400 gallons of water to produce a single pound of meat. And factory farming is the number one cause of deforestation and global warming. The U.S. uses billions of pounds of pesticides every year on our food supplies. Often, the animals are given arsenic drugs and chemical pesticides sprayed directly onto their skin to ward off parasites. The FDA lists 1700 drugs approved for use in animal feed. Every time you or your pet consume factory raised meat or dairy products, you are consuming the antibiotics, hormones, and pesticides administered to these animals.
With more and more vegan dog options available, there is no reason not to make the switch for a healthier dog, and a healthier planet. Now is the time to put as much care and concern into your pet food as your own diet; the threat to our planet, our lives and future generations is imminent.
~
A list of some amazing alternative vegan dog foods:
Sources

Beck, Laura. "Vega Dogs!?: Feeding Hazel a Plant Based Diet." The Bark. May 18, 2012. http://thebark.com/content/vegan-dogs

Lauritsen, Whitney. "Eco Vegan Dog." May 18, 2012. http://www.ecovegandog.com/search/label/vegan

"Dogs Can Eat Vegan Too." May 18, 2012. http://www.veganpoet.com/articles/dogs-can-be-vegan-too.htm

"Vegetarian Cats and Dogs." May 18, 2012. http://www.peta.org/living/companion-animals/vegetarian-cats-and-dogs.aspx

More reading:

Check the top posts and discussions on Reddit's Vegan Dog here.
~

Editor: Thaddeus Haas