get elephant's newsletter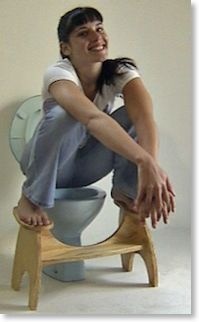 Pooping. You're doing it wrong. Here's how to do it right:

~
Via our friends at {Living Green Magazine}
Squat in style.
I heard recently that sitting on the toilet while reading is bad for us because we then spend too much time in the Thinker position, letting it "all hang out" so to speak.
Now I discover that there is a "squat poop" movement—and that several companies make products specifically designed to keep our butts hovering above the ceramic throne.
Slate.com ran an article a few years ago about how our bathroom posture affects our health. When then-president Jimmy Carter came down with a bad case of the hemorrhoids in 1978, "Time Magazine asked a proctologist named Michael Freilich to explain the president's ailment. 'We were not meant to sit on toilets,' he said, 'we were meant to squat in the field.'
He's probably right….By the 1960s and '70s, the idea was relatively commonplace. Architect Alexander Kira argued in his 1966 book The Bathroom that human physiology is better suited to the squat. According to Bockus's Gastroenterology, a standard medical text from 1964, 'the ideal posture for defecation is the squatting position, with the thighs fixed upon the abdomen.'"
If you want to go old school, simply use the squat toilet used in many underdeveloped areas of Earth—a hole in the ground. But if you want to squat in style, let's look at some products that help you go Number Two in the correct position.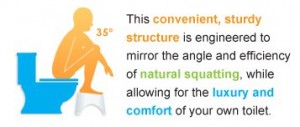 First up in the "poo" review is Squatty Potty,
which is essentially a foot stool that comes in several heights to provide users the benefits of squatting while still seated. They note that "Experts say squatting helps in the prevention of colon disease, constipation, hemorrhoids, pelvic floor issues and similar ailments… [It] has a convenient design that helps properly align the colon, and can easily be stored at the base of the toilet to prevent bathroom clutter in between uses." Prices range from about $35 to $80. Here is their educational video:
Number Two in the Number Two field is Nature's Platform—
a platform, not a stool—that allows you to hover directly over the toilet bowl. As they point out on their site, "Two-thirds of humanity uses the squatting position to answer the call of nature. In those cultures, appendicitis, diverticulosis, hemorrhoids, colitis, prostate disorders and colon cancer are virtually unknown."
It's only $144, plus shipping, and is apparently endorsed by yoga teachers as well as doctors.
If you want to become a squatter but money is tight, make your own stool or platform.
>>Lillypad sells stool plans for $8.
>>Free platform plans are also available.
And to give you more encouragement to take the squat, here's a video showing how to use the DIY platform:
http://www.youtube.com/watch?v=m_r81zHXfYE&feature=player_embedded
If you haven't had your fill of squat stuff, or want to find other product sources, Google these terms: "toilet squatting stools," "toilet squatting platforms," "toilet footstool."
*Adapted from livinggreenmagazine.com
Living Green Magazine informs and educates readers with environmental news and lifestyle articles. It highlights nonprofit causes and provides sustainable solutions for individuals, families, businesses and communities. Its readers come in all shades of green, and want to create a healthy environment for themselves and others. Living Green Magazine – Where Green Is Read.

Bonus:
~

Editor: Jayleigh Lewis
Bonus: Poop to Save the World!