get elephant's newsletter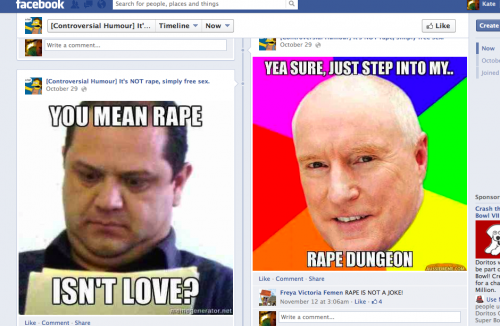 {This is the third article in a series discussing concerns that Facebook is anti-feminist. Please refer to the original article and Facebook's response from their Policy Management to elephant's community and Trista's concerns. elephant's honored to play some small role here in bringing together Facebook and its users in what, hopefully, can be a genuinely constructive solution and difficult, passionate, but vital dialogue. ~ ed.}

~
I have attempted to bring together the various groups mentioned in the original article.
We would welcome further explanation from you.
Facebook's response to the article was riddled with contradiction and, I must say, some hypocrisy.
"When evaluating speech on Facebook, we analyze the nature of the speech itself, as well as its perceived intent as indicated by any additional context we may have. We believe this additional information is important, since identical words may be hateful in one context, or off-color attempts at humor in another (such as with stand-up comedy)."
…While in the same response they state,
"At the moment, we have absolutely no way of rationally delineating 'non-sexual images posted by women' from other potentially pornographic nude images."

There is a clear demonstration of where Facebook's priorities lie. They will go to great lengths to protect groups like "rape book," but cannot tell the difference between pages like The Body Is Not An Apology and I Love Boobs. That sort of pandering is offensive. Facebook clearly indicates where its priorities lie…and those priorities are not in the safety, well being and equal treatment of women on their website.

If Facebook is truly interested in developing policies that engage in a more fair and equitable treatment of women—something we all would support—they will develop a Consumer Advisory Board or enlist the thoughts and ideas of its constituents—you and I and you and you and you—in the process of navigating content for context.  The sheer difficulty involved in even contacting Facebook about arbitrary suspensions and rules seems to speak to its desire to not be held accountable for its treatment of any "user," including women.
What they mean is:
>> mistake number one: removal of Dana's picture on October 25.

>> mistake number two: removal of her picture on October 28 or 29.

>> the right decision: blocking our account on November 7.

They've been saying this over and over again, with no justification or explanation of what we actually did this time that made them take the right decision (they only said that it was unrelated to the pic). What all of us received that morning was the message we wrote in our press release about the status posted on Oct 26th/27th. All four of us received a prompt message saying we've violated the community rules of Facebook for posting the following:

"You have posted a content that violates Facebook Community Rules, the post says: Follow us on Twitter @UprisingOFWomen. Support Dana with hashtag #WindToDana"

Well, we cannot see where is the violation in this status? Do you? Does anyone see it?

Plus: they never sent an explanation nor an apology or nothing, only yesterday morning (Nov 14th) they sent the apology I sent you only to Diala Haidar, who is one out of five admins who received warnings and blocks on the page.

I hope that you include our response in your article.
Hildur Lilliendahl:
I would like to point out that according to the no-nipples rule this is A-ok:

Men's nipples are fine and dandy as well. It's hypocrisy at best, misogyny at worst.

Regarding Fred's comment about me, I'm very confused. He states that he does not have context and that I have posted abusive photos. I cannot stress this point too strongly: I have not posted abusive photos. I have posted screenshots of other people's abusive comments and every single time I made the context readily available. A link to the site where the comment was originally posted (publicly, I might add) always comes with the screenshot. He's welcome to check it all out at my Tumblr.

If Facebook wants to allow their users to use highly offensive language to express their opinions and encourage violence, that's genuinely fine by me. But in that case, I feel I should be allowed to point out hate speech. That's all I've been doing, and that's the reason they keep blocking me. I realize I don't have a right to use someone's public product, but I do want to encourage this multi-million dollar corporate mass media to show social responsibility, to have courage to take a stand against violence, to stand by the oppressed against the oppressor.

This is my hope.
Sincerely,
Trista Hendren
PS: There were many women who weighed in on both the article, the subsequent Response from Facebook, as well as on various posts on Facebook, Twitter and other social media platforms. Unfortunately there is not a way to include all of that here. However, I would encourage everyone to make their voice heard in the comment section below, and hopefully we can see a constructive solution and dialogue come out of all this difficult, but important conversation.
~

Ed: Kate B.