get elephant's newsletter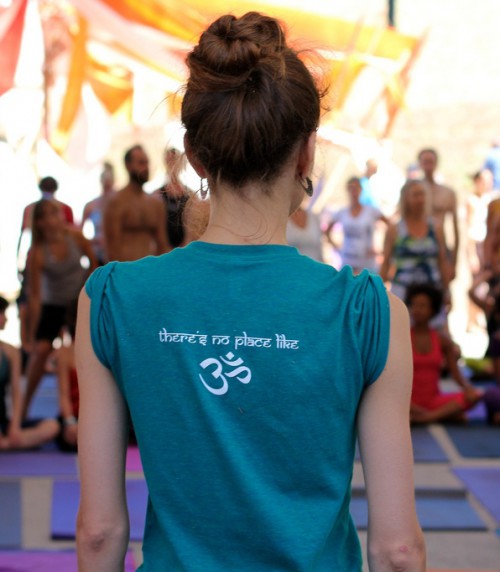 "In the world of yoga, many teachers find that vague platitudes and clichés are easier answers to students' questions than the truth," states Maya Georg in her article about, well, clichés.
Okay, so first: clichés exist because they are based in truth. You might have to dig for that kernel, but it's in there and that's what we're grasping onto when we use them.
(And, no, I'm not going to get into a discussion gender/racial clichés here. That's too messy and outside the realm of this article. Just had to put that out there).
Now, when yoga teachers use these phrases, but are unable to extrapolate on them, okay. We might have some frustration here. But let's just explore the truths embedded in these clichés, shall we?
Listen to your body.
Georg claims that if she listened to her body, she "would smoke four packs of cigarettes a day, drink a fifth of vodka, and eat nothing but chocolate ice cream as I lay on my couch." Let me put this forward: if that's your inclination, you aren't truly listening to your body, but to your ego. If you really sat in silence and listened to your body, you would find that your body wants, and will move toward, health. I mean, being tired, ill and grumpy all the time? No, thanks.
Whose body wants that?
But the ego—that vicious little voice, against your better interest, wants you immobile and indulgent. Why? Because moving, eating well, practicing yoga and meditation brings up some scary stuff. We have to detox—emotions as well as all that bodily waste—when we move toward a state of health. That's uncomfortable and, yeah, it totally sucks. The ego doesn't like that. The body does. Learn to separate the two.
(Hint: you learn this through yoga. And by breathing).
Just Breathe: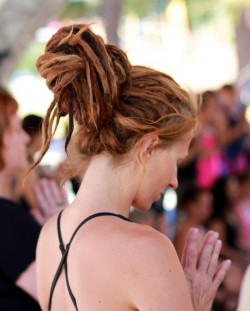 I use this phrase in my classes all the time. Why? Because as soon as something gets challenging—emotionally or physically—we hold our breath. Holding the breath stems the movement of the body and of the emotions. What happens when we stem these things? Life gets (or seems to get) easier through avoidance (see the ego, above).
But breathing reminds us to be in the moment. I say this in my classes because people forget to breathe. Think about the last time you tried not to cry. What did you do? You held your breath. You swallowed that uncomfortable emotion and unceremoniously buried it.
When we're in a crisis, as Georg puts it, "I need sincerity, not another cliché." Well, if you don't deepen your breath, there's no way you're going to listen for sincerity because you're so obsessed with that little drama of your own making going on in your head. The breath takes us out of our heads. We're miserable because we've cast ourselves in the starring role in the melodrama in our minds. We deepen the breath? Our focus shifts.
Okay, so what if you're facing a terrible tragedy: a death, major surgery, terminal illness. I don't have to point you to the blogs, articles and resources which claim that, as soon as one began to accept the situation (and we can't accept if we don't slow down and breathe), life became more manageable. There is the necessity of surrender.
(Speaking of which): Surrender:
Georg doesn't really get into this one, but learning to surrender? Huge. Huge! It was a revelation for me. Surrender is not about giving in. No! We are wild yoga warriors here, people. We are tough; we never give in. But we do let go. That old Zen proverb, "let go or be dragged"?  My god, that's true. We are dragged down by our own drama. Gah! Let it go. Surrender!
(Surrender—i.e. letting go—works pretty well in deepening your physical yoga practice as well).
It's Just Fear:
Well, it is. Ego plus fear equals immobilization. Why do students come to yoga a few times and then quit? As teachers, we see it all the time, right? Well, yoga makes you face yourself, your weaknesses. You can't lie to yourself in yoga. Sometimes we can't take that bright, often blinding honesty (and that's okay) and we leave. I've done it, for sure. I'm also sure I'll do it again.
Why? Fear! Fear is stultifying and it's linked to the ego. Once you can categorize your unwillingness to go forward as fear, well, you've identified the problem. Voila! Identification makes the thing not so scary. Suddenly, we know the 'enemy,' so to speak. Breathe. Find your courage. Go, go, go forward.
If you express and understand this fear, I promise, your teacher will not abandon you. Personal responsibility—admit to the fear and you will find help.
You should:
Okay. I agree with this one. No one can make your decisions for you. This is your journey. You shouldn't (ha ha) even tell yourself what you should or shouldn't do. I could is a good substitute. Try it. Personal responsibility—listen to your body (not the ego). It will tell you what it wants when it's ready (well, when you're ready).
Clichés are a way of approaching the truth; they are digestible and easily doled out in a class as encouragement; they are not a replacement for counsel by a qualified teacher. They need to be expanded upon. But! It is your responsibility to ask for clarification. If your teacher can't give it to you, well, you might need, politely, to excuse yourself and keep looking. But don't dismiss these phrases out of hand.
All you need is love? Sure, cliché. But think about it more deeply—love attracts people to you. People attract opportunities. Opportunities attract money, security, abundance. Security attracts ease. Ease attracts happiness. Happiness attracts (more) love.
See what I did there? I unpacked the cliché. I found the kernel of truth; I digested it. Don't let the clichés trigger you. As soon as you breathe, you're drawn out of the simplistic and into the deeper truth. I promise you (promise!) that this is how it works. Maybe not right away, but practice, practice, practice.
Oh, and breathe.
Ed: Kate Bartolotta