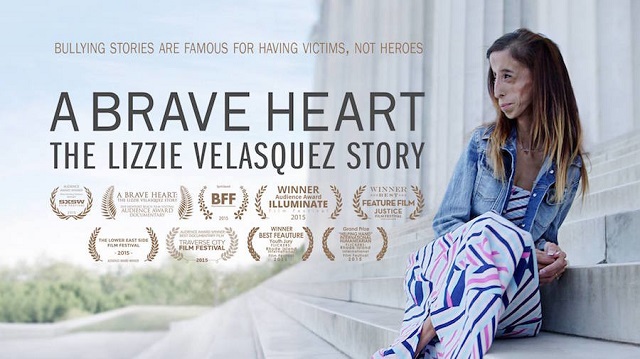 Sometimes people are such heroes, it's hard to wrap your mind around their existence.
There are the big names: the Dalai Lama, Nelson Mandela, Mother Teresa, Thich Nhat Hanh—and then there are the regular folks whose refusal to let their physical or mental challenges define them makes us take serious pause.
I've written about some of these people; my favorite yoga student, Jill, who suffers from cognitive and anxiety disorders but whose passion for yoga is unparalleled, a severely disabled woman, Raquel, who walks at least 20 miles every single day in the woods near my home, and David Maina, an African yoga teacher severely burned as a boy who overcame rejection and self-hatred and embraced love.
Lizzie Velasquez deserves a spot on this list.
She was born with a rare disease that prevents her from gaining a normal amount of weight—she has never been heavier than 62 lbs in her adult life—causing her to look unlike any other person on earth, and costing her the vision in her right eye.
Velasquez's soul has nevertheless blossomed into a thing of extraordinary beauty.
Mocked and tormented for her appearance, labeled the "ugliest woman in the world" on a blog which accumulated over 4 million hits with thousands of comments urging Lizzie to kill herself, she stands before us, 25 years old, one of the most self-actualized women I have ever seen.
Most striking is how comfortable she obviously feels in her own skin. In a culture that values appearance above all other qualities, she manages to radiate confidence and self-love despite the fact that she in no way fits what is considered our beauty mold, and despite a lifetime of ridicule, harassment, and cruelty.
When I heard Lizzie Velasquez speak, I was brought to my knees by her courage, but also by her normalcy and good nature. Watch this video and see for yourself. In just over 13 minutes she managed to suffuse my mind with positivity and inspiration—I bet she does the same for you.