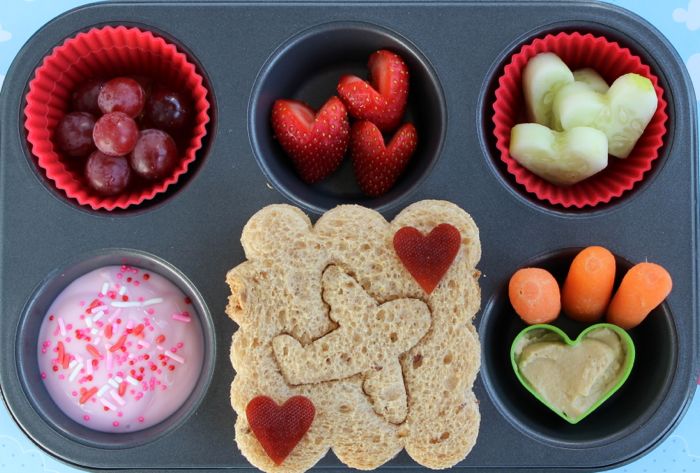 Not a day goes by without a Facebook post popping up as someone asks for kid-friendly foods, quick and easy weeknight dinners or meals that are suitable for vegetarians.
I definitely don't have all of the answers. In fact, I'm always interested to see what others suggest. What I do know is that when my husband and I are home from a journey, we try to bring that adventure back to our table. We cook most nights we're home and manage (most of the time) to come up with meals that can satiate a carnivore and vegetarian alike. Of course there are many nights that my husband adds in an animal protein to a meal; but the main dish is traditionally the same for both of us.
After over four years of being a full-fledged vegetarian (I tried some fish on our honeymoon in French Polynesia) and have been trying to add it into my diet since then. Here are just a few of our weekly staples that remind us of our world travels and manage to happily quench both of our palates.
1. Columbian Style Arepas (Vic Nite Market in Melbourne):
Corn arepas (packaged from the supermarket); black beans, guacamole/avocado, sour cream/plain Greek yogurt, your favorite salsa and shredded cheddar cheese. For more protein add: Morningstar Farms Chik'n Strips.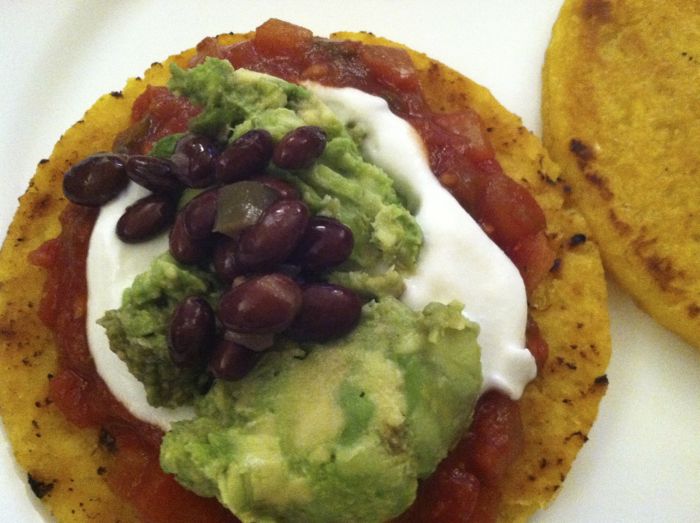 2. California Style Mahi Mahi Fish Tacos With Broccoli Slaw (Bora Bora):
Fillets of Mahi Mahi (cooked on stove top with your choice of seasonings—we use rosemary, marjoram, red pepper flakes, sage, thyme, olive oil, salt and black pepper), four whole wheat tortilla wraps, tartar sauce, guacamole, sweet chili sauce and packaged broccoli slaw doctored up with: raw ramen noodles, pistachios (omit if allergic), craisins, salt, pepper and poppy seed dressing. Sometimes we'll change it up and do the fish with quinoa, sautéed veggies and goat cheese in lieu of fish tacos.
3. Costa Rican Gallo Pinto (Jaco, Costa Rica):
Use white rice and cook following instructions. Sauté a mixture of onions, mushrooms, bell peppers (if you choose) and add one can of black beans. Add cooked rice, stir and add in Costa Rican Lizano sauce and a heaping helping of cilantro. We eat with chopsticks for extra fun!
4. Scrambled Eggs (with Morningstar Farms bacon/sausage) & Jewish inspired Sweet Potato and Zucchini Latkes (New York):
Sauté vegetables (mushrooms, broccoli, onions and peppers) then add in egg mixture (includes seasoning, Asian sriracha sauce and cheese) and mix to form scrambled eggs. In separate bowl, shred sweet potato and zucchini, a few spoonfuls of flour, seasoning and egg and mix to semi-sticky consistency. Drop spoonful into pan with vegetable oil and fry (or you can bake in an oven) accordingly. Cook soy bacon/sausage in pan on stove top to desired result. We top our latkes with: applesauce, Greek yogurt/sour cream and sweet chili.
5. Butternut Squash Soup and (British) Quorn Chik'n Nuggets (Hong Kong):
Your favorite recipe for Butternut Squash Soup (mine is from Food Network Star Giada de Laurentis) with a topping of goat's cheese and dried sage; then cook up a box of Quorn Chik'n Nuggets on stove top (add your own spice mixture). We eat with sides of barbecue sauce, sweet chili sauce and guacamole.
6. British Inspired Tuna Panini With Branston Pickle (London, UK):
Panini pressed sandwich: tuna (nutmeg, ginger, red pepper flakes, salt, pepper, ground chipotle, dried parsley, ground ginger, marjoram, sage, thyme, rosemary, sunflower seeds, craisins, golden raisins and pistachios for crunch), mashed avocado, pickled and sliced beetroot, one slice of cheddar cheese, lettuce/spinach, a slathering of Branston pickle; served with veggie crisps or pretzels or a small green salad.
7. Aussie Bangers in Bread (Melbourne, Australia):
Vegetarian sausages (I really like Trader Joes Apple & Sage) in bread with choice of sauce (we've used: barbecue sauce, sweet chili, sweet pickle relish, mustard, mayo and ketchup) served with salad.
8. Aussie Inspired Burger Night served With Sweet Potato Fries (Melbourne, Australia):
Homemade burgers (black bean, quinoa or chickpea work for me) topped with lettuce, cheese, tomato, sliced and pickled beetroot and fried egg served on a whole-wheat bun with fresh cut and baked sweet potato chips on the side.
9. Vietnamese Themed Noodle Dish With Quorn Chik'n (Vietnam):
This is a Pho-inspired noodle dish made at home. Soba noodles (cooked to instructions) added to sautéed mixed vegetables (mushroom, onion, bell peppers, broccoli with salt, pepper and red pepper flakes). Sauce: light soy sauce, red pepper flakes, lime juice, sugar and fish sauce. For a protein source add Quorn Chik'n naked cutlets cooked on the stove top. Try this one with chopsticks too!
10. Matzoh Ball Soup and Vegemite and Cheese Toasties (comfort food first tasted in childhood):
Whatever version of chicken soup you like. We make ours from a mix with Matzoh balls from Streits mix and we add in extra noodles of course alongside vegemite and cheese toasties (grilled sandwiches). This one is bound to cure whatever ails.
11. Southern Inspired Flatbread Pizza (courtesy of Food Network Star Gina Neeley):
Served along-side salad or soup; pre-made thin crust pizza (we like it better than on pizza dough); combine cream cheese, goats cheese, garlic, red pepper flakes, salt, pepper and basil and spread evenly across top. (We leave out the Parmesan cheese.) Then decorate with zucchini and red onion, add more basil to top; coat edges with olive oil and cook according to pizza crust directions.
And for us, no matter the day or the season, Australia's best biscuits, TIM TAMS, are how we say dessert.
Happy eating and safe travels!
Love elephant and want to go steady?
Editorial Assistant: Celeste Shea/Editor: Bryonie Wise
Photos: Melissa/Flickr and Stacey Ebert