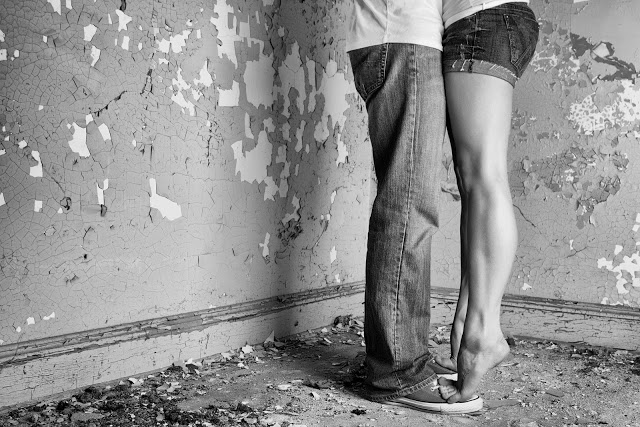 With the hustle and bustle of daily life, sex can end up on the "to-do" list somewhere in between going to work, yoga class, and picking up bread from the grocery store.
In other words, sometimes the idea of sex can be utterly un-sexy.
Sure, occasionally a quickie is all a couple has time for, but when looking to add more depth to the relationship a couple may turn toward more mindful practices. Mindfulness is about being present and when a couple is in the moment they are more likely to find pleasure and to connect more completely with each other.
Here are 15 simple suggestion for utilizing all five senses in sensual and sexy ways.
Sight
1. Dress Up
This doesn't necessarily have to be a lavish ordeal like corsets, thigh-highs, stilettos. Sure, it can be, but it could also just be something different, something that brings out confidence—perhaps a silk chemise or that perfect black dress, or maybe a new pair of nice fitting underwear. By slightly changing the regular routine it will awaken the eyes, thus sparking new ideas about what to do with the night.
2. Transform the Bedroom
People often treat their bedrooms like they're a home office or even a living room, watching television or working in bed. Watching four episodes of Game of Thrones in a row probably won't lead to much energy when it comes to sensual connection. At least one night out of the week make the bed a romance zone; light a couple of candles, put super soft sheets on the bed, and relax while talking to each other face to face.
3. Channel the Inner Sex Goddess
Take ten minutes to visualized what is truly wanted from the connection with your partner. It may seem silly at first, but imagine what you look like and more importantly, how you feel when there is empowerment in the intimacy the two of you are creating together.
Smell
Use one of these three scents to lavish the bedroom (or any room in the house) with sensual aroma. Or add a few drops of essential oil to a warm bath.
1. Lavender.
This is great for stress relief and helps ease anxiety and the severity of depression.
2. Vanilla.
This scent has a subtle, nearly subconscious aphrodisiac quality to it and is particularly arousing for men. It's also known to help calm, focus and make people feel happier overall.
3. Jasmine.
One of most popular of essential oils, jasmine is known to be an uplifting scent that reduces fears and boosts confidence. It's euphoric and helps create emotional warmth.
(*When it comes to essential oils consult a professional, as many are not good to use right after pregnancy etc.)
Touch
1. Try giving each other a five minute massage. Sure, it's not that much time to work out any knots or muscle aches but skin on skin contact, even for just five minutes is great for re- connection.
2. Find new body parts to kiss. Start at the forehead and slowly work down the entire body, stopping at places normally ignored like the inside of the elbow, the side of the stomach, the calf.
3. Bring in new fabrics and fun textures like silk, feathers or velvet. Blindfold your partner and lightly trace their whole body.
Taste
Eat these delicious foods for a sensual arousing experience.
1. Chocolate
Yes, yes, the obvious aphrodisiac of choice. Chocolate has a euphoria releasing chemical PEA (phenylethylamine) that helps induce feelings of excitement and attraction. Try sharing nibbles of the dark organic kind with the one you love.
2. Pineapple
Not only are they sweet and succulent they're also known to help make a person's love juices taste better.
3. Avocado
While hanging in twos from trees these fruits have a striking resemblance to male testicles, at one point, priests in Spain forbade them because they were obscenely sexual. They are known to help boost the immune system and are rich in folic acid, vitamin B6 and potassium.; staying healthy and having energy can truly help one become more in touch with their sensual side.
Sound
1. Tales
Women are super aroused by a good story. Find lit erotica or buy a how-to book and read out loud to each other.
2. Fantasies
Take the time to share deep dark desires with each other, maybe even act them out if it ends up being something you both are interested in. If not, enjoy them for their salacious appeal or titillating possibilities.
3. Music
\Music can either set the scene or ruin it entirely. Try putting on something slow and sultry; Tricky is a good one, so is Metric, Warpaint, The XX, Thievery Corporation, etc.
By incorporating one or all 15 of these sensual tips into daily life connection, intimacy, and joy will easily be amplified—in the bedroom and beyond.
Relephant: 
Love elephant and want to go steady?
Editor: Catherine Monkman
Photo: Jeff Chandler/Pixoto