Five Extra-Special Meal-time Rituals.
When my family sits down for a home cooked meal, we enjoy a few rituals.
Rituals are symbolic behaviors that can be comforting in their repetition.
Rituals around meals help us to enjoy the food more. They can help us transition smoothly into eating and let us know when the meal is over. Rituals provide a natural rhythm around eating.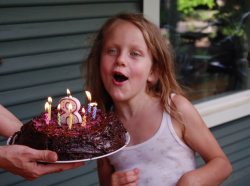 Rituals can also be incorporated into special occasions. Singing the Happy Birthday song and blowing out the candles is one of my best-loved traditions associated with food. It honors the birthday boy or girl and lets all of the guests be an integral part of the celebration.
Sitting down to a family meal is a good way to catch up on each other's day, builds family connection and provides a healthy break to digest our food. Here are a few rituals to help us savor a family meal.
1. Set the table. Learning how to set the table is a good life skill. It's an easy way to help out. A beautifully set table is inviting and prepares us for the meal.
2. Light a candle. Lighting a candle provides a healthy glow. It lets us know that it's time for the meal to begin. It makes every day a special occasion.
3. Bless the food. Saying a blessing before eating gives us reverence for the food. My family says this simple blessing, taught by Roshi Joan Halifax at the Upaya Zen Center, before each meal:
Earth, air, water, fire and space

combine to make this meal.

Numberless beings gave their lives and labor

that we may eat.

May we be nourished,

that we may nourish life. 
4. Boast and toast. During this part of the meal, we take turns sharing the highlights of our day.  This gives us the chance to appreciate one another's triumphs.
5. Blowing out the candle and asking to be excused from the table. This defines the natural end to the meal and gives us the opportunity to practice good manners.
Rituals make eating and spending mealtime together special.
Love elephant and want to go steady?
Editor: Rachel Nussbaum

Photo: @waylonlewis, author's own