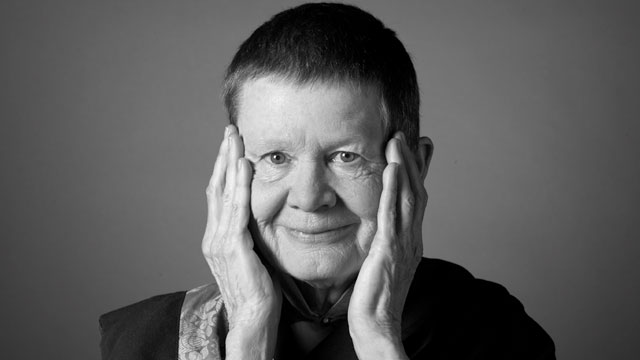 Pema Chödrön teaches in a way that makes me feel like I am taking a walk with her. Or baking with her.
I like to pretend that we are hanging out when I listen to her podcasts. When I read her books, I like to think that she is one of my girlfriends…the kind who comes over and spends time with me even when I am busy.
Sometimes, we can feel so overwhelmed by things. I'm not talking about material things—and those can be overwhelming too. I am talking about problems. Goals, dreams, behaviors, neuroses, people. All of it.
And what are we to do when there are problems above and problems below?
Eat a strawberry, of course.
From The Wisdom of No Escape, page 25:
"There is a story of a woman running away from tigers. She runs and runs and the tigers are getting closer and closer. When she comes to the edge of a cliff, she sees some vines there, so she climbs down and holds on to the vines. Looking down, she sees that there are tigers below her as well. She then notices that a mouse is gnawing away at the vine to which she is clinging. She also sees a beautiful little bunch of strawberries close to her, growing out of a clump of grass. She looks up and she looks down. She looks at the mouse. Then she just takes a strawberry, puts it in her mouth, and enjoys it thoroughly. Tigers above, tigers below. This is actually the predicament that we are always in, in terms of our birth and death. Each moment is just what it is. It might be the only moment of our life; it might be the only strawberry we'll ever eat. We could get depressed about it, or we could finally appreciate it and delight in the preciousness of every single moment of our life."
This is my favorite little story from the chapter in the book that explains ways for us to cultivate joy inside ourselves—to learn to serenade and tame the tigers we struggle with in our heads.
Whether we are literally eating strawberries and enjoying their juicy color and sweetness, or choosing to cultivate joy and happiness—just for a moment—in our emotional strawberry patches, we have physical and soulful ways of coping with sadness, stress, anger. We don't  get rid of these emotions, says Pema Chödrön. We make friends with them in order to control them with precision, gentleness, and our [meditative] ability to let go.
There are only 145 calories in one pound of strawberries. So eat 'em up!
Love elephant and want to go steady?
Editor: Rachel Nussbaum

Photo: elephant archives