Tuesday was National Act Like the Real World is Facebook day.
I deemed it the night before as I was falling asleep. As I drifted off, I made a set of rules for myself, guidelines really, that would keep me focused during my day of Manual Facebook.
Wear an eye-catching outfit that hints at being watched or observed in some way.
Randomly "like" people and activities throughout the day.
Randomly "poke" people throughout the day.
Enter rooms and announce random, mundane tidbits about your life.
Hang pictures of myself randomly on walls.
Frame achievements of others and present them so that other people will also notice said achievements and give congratulations.
Give people articles about things I am concerned about.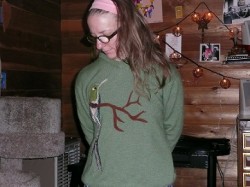 I chose my outfit for the day and headed off to work. I walked through the door to my office pod and threw out my first status update: "Today is National Act Like the Real World is Facebook Day!"
As I went to sit down, Erica, a Facebook savvy woman who I work with said, "Facebook is life. Because of Facebook I know a whole bunch of stuff about Google I didn't know before." When I asked her what that was, she replied that she couldn't remember it, and told me to look it up on her Facebook page.
It was at this point that I knew that my success was guaranteed.
I printed five articles:
Digestion and Nitrogen Metabolism in Sheep and Red Deer Given Large or Small Amounts of Water and Protein
10 Reasons to Avoid GMOs
17 California Communities Running Out of Water
29 Awesome Things you didn't know about Google (but you should).
Wikipedia information on Mary Poppins
Then, I let the  "liking" commence.
I would walk up to people, give them the thumbs up, and say, "I am liking you," with a huge smile on my face. Almost every single one of those people knew what I was doing, and they loved it.
I could tell by the way they laughed and gave me the "like" sign right back. After that, I would throw them an emoticon-ish smiley face. Just to let them know I was happy with it.
At about 11:00 am, I walked into the lunch room and updated the people on break, "My cat really likes sleeping on the heater in my living room!"
I left without waiting for any likes.
I thought I would wait an hour and check back to see if I got any, but when I returned, the people who had been eating lunch were all gone. I was surprised that I didn't get any "likes" as cats are so popular on the virtual Facebook. I thought it would have translated.
At one point, I "liked" Jeremy as he was walking into work. Moments later, as I was sitting at my desk, he peeked into the office pod, caught my eye, and with a mischievous look on his face, exclaimed, "poke!" and made the poking sign at me. Manual Facebook is awesome!
I continued throughout the day, handing out articles, throwing "likes" and "pokes" around like they were candy, and hanging up pictures of myself and my extended family in random places in the offices where I work. It was great to have so much immediate feedback on things that normally requires minutes, hours and sometimes even days.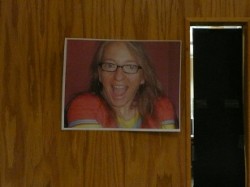 As I left for the day, I was shocked to realize that Facebook is not life as Erica had claimed at the start of the day.  As it turns out, life is life, and Facebook is just something we do instead because it seems to be easier. Go figure.
Love elephant and want to go steady?
Editor: Catherine Monkman
Photos: Author's Own, FACEBOOK(LET)/Flickr