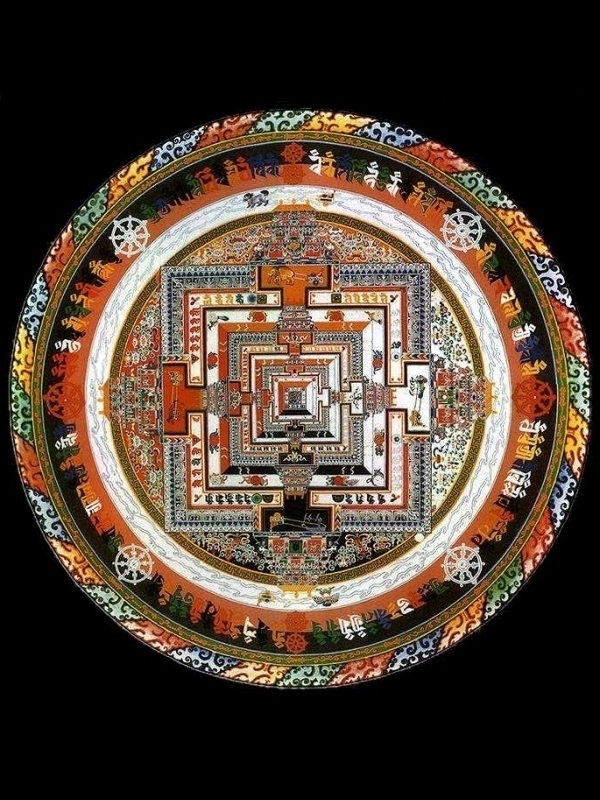 Mandala: a geometric figure representing the universe in Hindu and Buddhist symbolism.
And from HH Dilgo Khyentse Rinpoche:
"The continual stream of new discovery, revelation and inspiration which arises at every moment is the manifestation of our clarity. We should learn to see everyday life as mandala—the luminous fringes of experience which radiate spontaneously from the empty nature of our being.
The aspects of our mandala are the day-to-day objects of our life experience moving in the dance or play of the universe. By this symbolism the inner teacher reveals the profound and ultimate significance of being. Therefore we should be natural and spontaneous, accepting and learning from everything.
This enables us to see the ironic and amusing side of events that usually irritate us." 
So, once we see our struggles and fears as just a tiny part of this giant maze of illusion, occurrences and mundane existence, we achieve the ability to see all things as just phenomena. Our feelings, our trials, and the turbulence that can lead to suffering is diminished or reduced by our profound ability to find humor and grace in the human condition.Our human condition.
We are not alone, so breathe! We are small seams in the giant ruching that composes the folds of the universe.
In order to get out of a maze, you have to—-in the words of Pema Chödrön—start where you are.
So say a prayer and laugh a little.
Love elephant and want to go steady?
Editor: Catherine Monkman

Photo: elephant journal archives