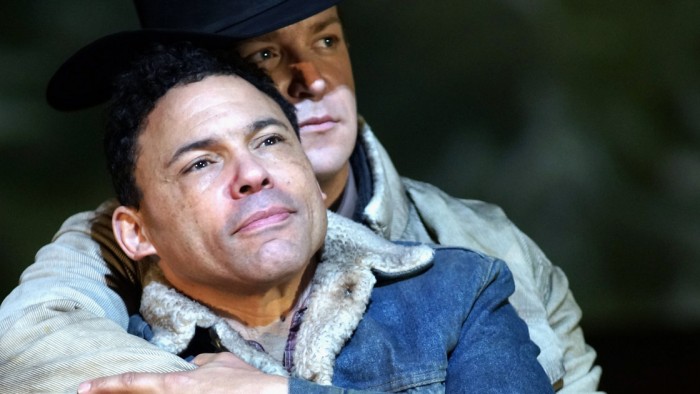 Take a love story about a pair of cowboys from Wyoming and the pulitzer-prize winning composer, Charles Wuorinen.
Put them in the same room, lock the door, and this is what happens:
The 2005 Oscar-winning movie, Brokeback Mountain, is transformed into an opera.
Yes, really.
Wuorinen said:
It's a contemporary version of a universal human problem. Two people that are in love, who can't make it work, and it ends badly.
Annie Proulx, the author of the short story that originally appeared in 1997 in the New Yorker, wrote the words that are sung—the libretto—in Brokeback Mountain, the opera. Proulx did not, however, write the screenplay for the movie.
The opera veers away from the movie in many ways.
Wuorinen wanted to do something that the film didn't: instead of the beautifying effects of the cinematography on the mountainous landscape of the North American West, the opera returns to the sense of threat, of danger, of hard-fought existence that the Wyoming mountains are really about, something that's there in the story but less apparent in Ang Lee's film.
Also, the opera's libretto offers a very different ending than the original short story, where Ennis's final words are stoic: "If you can't fix it, you've got to stand it."
Proulx said he falls back into his place in rural Wyoming society.
"There are many things in that life that if you can't fix them, you have to stand them. You can't fix the wind; you have to stand it. You can't fix a blinding storm; you have to stand it. And so it's an acceptance of his loveless fate."
She says that the opera needs more than that—a larger piece of Ennis. "Over the course of the opera he becomes more and more capable of self-expression and self-acceptance," Wuorinen explains." He deals first in grunts and shouts, basically. Then, as he gets older and a little bit more mature, he sings more and more. When he finally gets to elaborate singing, it's at the very end of the piece, when Jack is dead and he has lost everything. The tragedy of it is that he's achieved this very painfully, only after it is too late."
Brokeback Mountain, the opera, opened in Madrid two weeks ago and runs through February 11th.
Love elephant and want to go steady?
Editor: Rachel Nussbaum

Photo: Tom Randle (left) and Daniel Okulitch in the opera Brokeback Mountain.