There is a good reason why doctors refer to stress as the "silent killer."
A lot of people say they don't feel stressed, but their bodies are telling a different story.
People deny they're stressed because they don't know what stress is. They think it has something to do with hypertension, or perhaps with depression. And obviously it is related to these things—but it's not synonymous with them.
Stress is simply anything that has a negative effect on your mental and physical well-being. Yes, really, that's all it is. But make no mistake—just because it has a general definition, doesn't mean its effects aren't specific (and sometimes seriously devastating, as you can see in the infographic attached below).
Your Surrounding Environment and everyday hassles, including long commutes, noise, pollution, etc.

Your Social Environment, such as problems at work, losing a job, exhausting meetings, deadlines, holidays, relationship problems, family problems, going through a divorce, or the loss of a loved one.

Your Physical Health: illness, aging, injuries, your lifestyle, not exercising enough, poor diet—all can have a serious toll on your body.

Your Mental Health, in the sense of your perceptions and how you interpret life's challenges and how you respond to them, is also a major source of stress.
When stress remains unchecked, it becomes "chronic," and it could lead to stress-related diseases…
The thing is, your immune system deals with stress itself as if it were a disease. So in response to it, it produces stress hormones like cortisol and adrenaline, which result in high blood pressure (hypertension) and increased heart rate which leads to cardiac problems, etc.
In this infographic from BestTherapySchools.com, you can see how stress affects many parts of your body. Pay special attention to the myriad detrimental effects of high cortisol levels. Reducing those levels is a must in order to ensure continued health: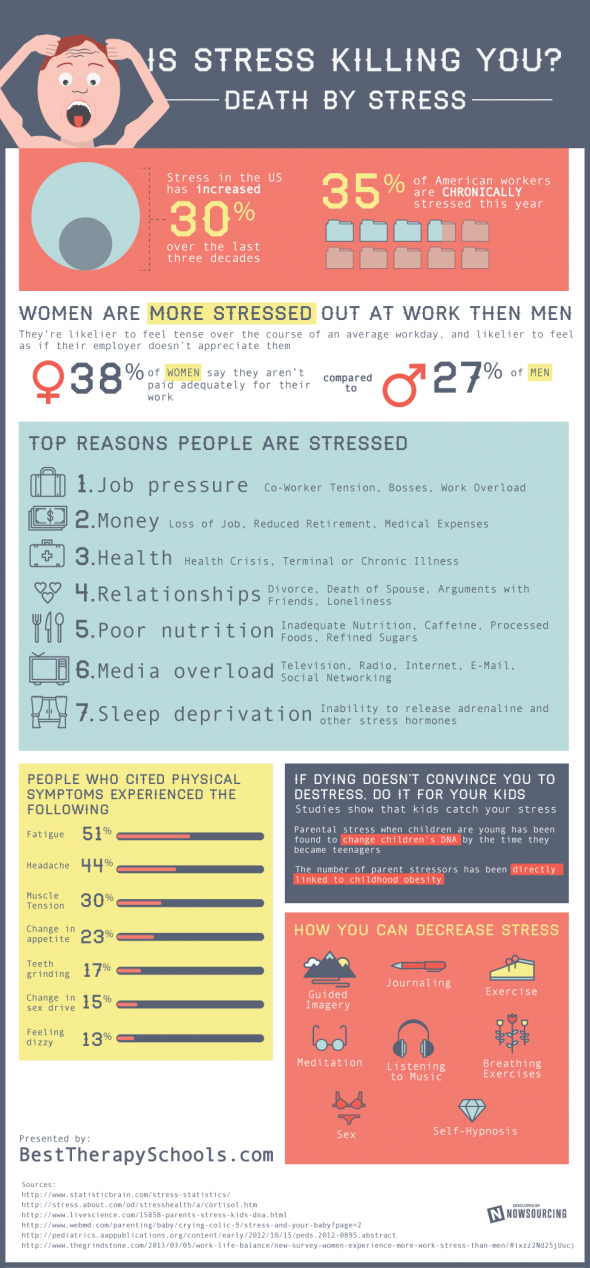 Love elephant and want to go steady?
Editorial Assistant: Judith Andersson / Editor: Rachel Nussbaum

Photo: elephant archives, BestTherapySchools.com