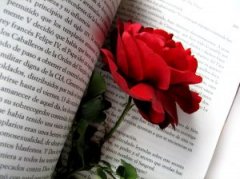 "Write only what you love, and love only what you write. You have to get up in the morning and write something you love, something to live for." ~ Ray Bradbury
The digits on the clock on my nightstand read 4:18 a.m. as my fingers caress the well-worn keyboard of my laptop. Rubbing my eyes as the words pour forth from my unbridled imagination, stretching luxuriantly.
Good thing I learned many years ago, how to type without looking at the keys. Chalk that up to having been a journalist since 1988.  Also a good thing that writing is my healthy addiction, which explains why I am mostly awake at this hour instead of immersed in dreamland. I could call it 'dreaming while awake'.
I have long loved words. As a child, I toted books around as some carry cuddly teddy bears. Bookstores and libraries were like a combination of a toy store, ice cream parlor and Disney World; a magical place to which I was transported at the speed of thought. Swirling in word soup. Indulging as if it were the most luscious chocolate, licking my fingers afterward. Sultry sweetness. A verbivore is what I have become, with a voracious appetite for indulging shamelessly in decadent delights.
I refer to the voice that inspires my work
, as The Muse with whom I have a mad, passionate love affair. A few years ago, a well-known psychic told me, when I asked her about romance (who doesn't inquire about that topic when having a reading?) "Your relationship will be with your Muse."
I pondered afterward whether she meant that the man with whom I would be involved would take on that role or if the creative force itself would become my lover. I am guessing she meant the latter since, at this writing, the human version has not yet shown his face. I would adore both.
The Muse who I cannot literally see, but can certainly hear and feel, awakens me at all hours, tickling my skin, giving me goose-bumps, nibbling my ears, setting my heart to racing, seducing me with come hither thoughts, asking me to be a soul revealing stripper. It unties the strings on the black lace bodice encasing my aphrodisiac imaginings. It drapes silk scarves and tickles with feathers those aspects of myself that need a bit of prompting to sound out my longings. Helpless to resist, even with "Are you sure people really want to know my deepest, most vulnerable thoughts?" I am assured that is so as he scatters rose petals on the bed to entice me further.
And so, I sometimes stand emotionally naked, heart pounding with a combination of anticipation and trepidation, hanging on the precipice in pre-orgasmic bliss, wondering what the response will be. Time and time again, as I dip into the well of my psyche', I evoke knowing nods from those who can relate to my revelations if not the actual experience that led to them. That makes me bolder. Daring to bare more as my erudite exhibitionism meets their verbal voyeurism.
There are times when I am certain that The Muse has desires that demand satisfaction. I liken it to an insistent lover who awakens me at all hours and ravishes me until we are both satiated. For now, I merge with the Inspirer who lusts after me as powerfully as I lust after it and drift off into peaceful sleep dreaming of our next ecstatic encounter.
Love elephant and want to go steady?
Editor: Rachel Nussbaum

Photo: Provided by author