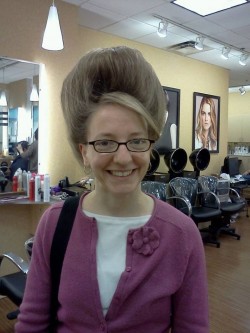 Recently, I decided that 2014 is The Year of New Traditions.
If I remember correctly, this decision was made about a month ago. Of the new traditions I have recently created, the best and most eloquent is this:
"If something appears to be unpleasant, I will do everything in my power to make it pleasant by doing whatever it is I have to do to make it so."
In keeping with this new tradition, I decided to get an incredibly wacky updo and make up job to get my new driver's license. Why? Well, think about spending an hour or two standing in line at the DMV and you will have your answer.
I went to my favorite hair salon in my local shopping mall and I told my stylist to make me look crazy, but not just-got-out-of-bed or sloppy crazy. I wanted to look intentionally crazy, which, as most of us know, is a completely wonderful and entertaining form of crazy. Especially when considering who we are entertaining: ourselves.
It was a huge success. Especially considering how entertained I was by all the people looking at me like I was crazy. I am almost certain I felt the exact same way Jennifer Aniston feels when she walks through a mall; like everyone is pointing at her and talking about how amazing she looks.
Where, you might ask, did I get the inclination to do such a thing? The place where every great idea comes from: Mary Poppins.
"In every job that must be done there is an element of fun. Find the fun and snap! The job's a game."
Yes, I added a spoon full of sugar to my DMV experience and I, in return have a gift that will keep on giving for the rest of my life if I choose, an ID that will make me chuckle every time I am asked for it.
So far, I am killing it in 2014.
Relephant reads:
The Best New Year's Resolution I Ever Made.
The Year of the Unicorn: 8 Magical Ways to Celebrate.
Love elephant and want to go steady?
Editor: Catherine Monkman
Photo: Author's own.