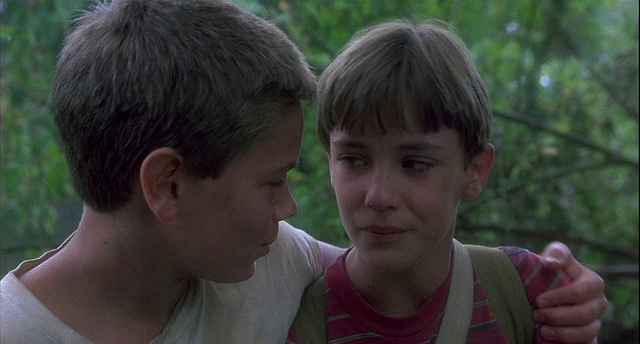 Winter can be amazing, with the magic of snow, and slate-cold, sunny days that jolt us into a state of awake.
Things I love about winter: steaming hot chocolate, steaming coffee, tobogganing, building snow creatures.
It can also be a terribly long, slow-moving and grey thing to endure. We tend to nest indoors, don't get that all-too-necessary sunlight, and can feel low as a result. Things I don't love about winter: slush, brain fog, existential rumination and frostbite.
The good news is, movies are the perfect indoor activity, and can be a beautiful remedy to help transition from our wintry cocoons into spring.
Here are a few movies dealing with the passage of seasons to help keep keep us cozy and happy as spring gets ready to find us.
1. Spring, Summer, Fall, Winter … and Spring (Ji-duk Kim, Korea)
The ultimate serene, stunning ode to the passage of time, both physically and metaphorically. An old monk lives in the ethereally gorgeous setting of a cabin on a lake. Literally right on a lake—he has to get into his boat and paddle over to the nearest patch of land.
He has a visitor—a little boy who has come to learn the ways of a master. Seasons turn, months become years, and the relationship between the two evolves in heart-breaking ways that tell us much about the longings of the soul.
2. Heavenly Creatures (Peter Jackson, New Zealand)
Before there was Lord of the Rings (directed by Jackson), and three years before Kate Winslet became a household name after Titanic, there was this little gem.
It's loosely based on a real-life murder case, but the focus here is on the relationship between two young, teenaged girls as their relationship develops in extraordinary ways.
Shot in gorgeous, loving detail (relish in the sun-scapes), we get to peer into the hearts and mind of girls with unstoppable imaginations and unwavering faith that dreams can come true—no matter how hard they have to work to defend this belief.
3. Away From Her (Sarah Polley, Canada)
On the opposite end of the seasonal spectrum, we have the achingly lovely story of the dying embers of a love affair.
But this no The Notebook. There are no flashbacks and no promises of happy endings. Here we have an old, lonely man trying to deal with his wife, afflicted by Alzheimer's, being put away.
The winter sun beams in relentless contrast to the cave of confusion that envelops the aging couple as he watches her fall for another man. There is much to learn in this valiant fight against darkness.
Who doesn't love this love letter to youth, and contemplative look at what it means to find connection, and to grow up?
Watch (probably not for the first time), as Gordie, Chris, Teddy and Vern climb out of their treehouse and into the hard slam of reality after the death of a friend.
As they search for the boy, they learn about themselves, each other, and what real freedom might look like for each of them.
5. Umbrellas of Cherbourg (Jacques Demy, France)
Oh, Umbrellas of Cherbourg, what don't you do for me? Love! Heartbreak! Song and dance!
This masterpiece (and the ravishing Catherine Deneuve's first foray into movies), is a spectacular tribute to the power and fallibility of the human spirit.
The movie features things like non-stop sung dialogue and hyperreal sets in which people's outfits match the background wallpaper. Just sit back and let this film overtake you as it traverses its three 'seasons': The Departure, The Absence and The Return.
6. Easy Rider (Dennis Hopper, USA)
It's almost spring, so it's almost necessary to start fantasizing about road trips. Might as well make it the most iconic one ever, as two neo-Beatniks hop on their bikes and head West. It's as amazing as you want it to be.
7. Love Story (Arthur Hiller, USA)
I don't want to ruin everything, but this movie always gets me at "What do you say about a 25 year-old girl who died?"
A rich boy who's smarter than he looks falls in love with a bookworm who's more lovelorn than she looks, and the rest is a romp through the passage of a brief love affair, the outcome of which is revealed in the first line of the film (and the book it's based on, a delicious read).
If there's any movie to tell you to enjoy what you have (including winter) while you have it, this is it. Or at least one of the 'it's.
8. After Life (Hirokazu Koreeda, Japan)
Nothing says transition more than a poetic rumination on what happens to you when you die.
In this esoteric poem of a movie, a tale of intrigue builds around the idea that after you die, you enter a room where you get to choose your favorite memory from life. Workers then recreate the memory for you, make a movie out of it, and the dead use this memory as a springboard helping them vanish into whatever comes next.
9. Dreams (Akira Kurosawa, Japan)
As winter comes to end, we dream about warm days ahead and worlds full of possibility. If you find you need some assistance about what can be, you can turn to Kurosawa's genius film for guidance.
These tales are based on the director's real dreams, and he gives his movie segments titles like Sunshine through the Rain, The Blizzard, and Village of the Watermills. This film is an orchestral movement though time and space.
10. The Red Balloon (Albert Lamorisse, France)
A pure half-hour of perfection. This is the story of a little boy and his big, red balloon as they escape the confines of interior space (and authority) and dive headlong into freedom. And you can watch it right here—enjoy!
http://www.youtube.com/watch?v=AhGLI7yyzYM
Love elephant and want to go steady?
Editor: Bryonie Wise