I spent 15 years of my life trying to look as beautiful as a model.
Wouldn't it be awesome to have flawless skin, perfectly arched brows, and the sculpted jawline that, for me, was always the epitome of beauty?
I spent abomb using the same products, but the freckles and dark circles refused to go away. I was disappointed, but then help came to me in a very magical way—I became a mom to twin boys. My search to give them the best introduced me to the wonderful world of DIY and green living.
I would love to share three recipes with you that are a part of my daily life and help me live life free of chemicals and toxins:
The Citrusy Body Scrub
This is one of my favourites—and also one of the easiest recipes to follow. You can easily stock this scrub for at least 3 months in your refrigerator.
What you'll need:
5 tsp granulated sugar (smaller granules)
1/4 tbsp salt
2 tbsp of pure coconut oil
1 drop of your favorite essential oil
pinch of cinnamon powder
First, I take 5 teaspoons of granulated sugar and add a quarter tablespoon of smooth salt and a pinch of cinnamon powder. Next, I add two tablespoons of pure coconut oil to this mixture and mix it for about 2-3 minutes. At this point, I add one drop of my favorite essential oil (I prefer to use lemon or orange) and mix again for a minute. Stock this in an airtight container. That is all you need to do! The oil will moisturize your body and the sugar will exfoliate off any dead skin.
Restore your Skin's Natural Balance with Mother Dirt 1. AO+ Mist
1/4
Live probiotic spray clinically researched to restore clarity & balance to your skin in 4 weeks.
Order Now
Whipped Body Butter
Ingredients:
6 Tbsp coconut oil
7-8 drops lavender essential oil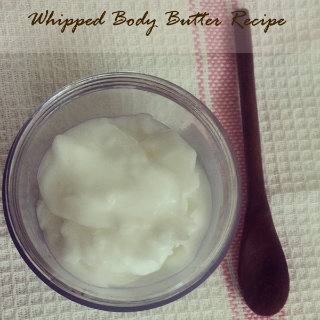 Making your own butter is a wonderful experience—and there are just two ingredients in this. I take 6 heaped tablespoons of pure, solidified coconut oil and use a hand blender on low speed to whip it for 10 minutes. Note that you need solid coconut oil, liquid oil won't work. You will notice the coconut oil getting lighter and fluffy at this point of time. I then add 7 – 8 drops of Lavender Essential Oil, and whip it for another minute. Scoop it out and place in an airtight jar.
A Soothing Balm for Headache Relief
As soon I came across this recipe, I knew that I had to make it because I have bouts of migraines that can last for days. Even with all of the ingredients, it only took me about 10 minutes to make this soothing balm from the start to finish.
Ingredients:
1 Tsp of beeswax1 1/2 Tbsp pure shea butter
1/2 tsp grape seed oil
8 drops peppermint essential oil
4 drops eucalyptus essential oil
8 drops lavender essential oil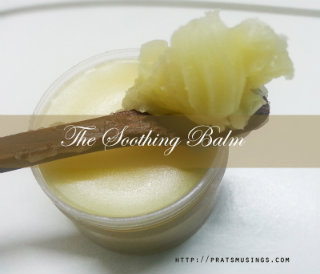 On a double burner, melt the base oils on the lowest heat possible. I don't let the oil smoke or get very hot. I stir it constantly to ensure that the oils have all blended really well.
Take this off the heat and add all of the essential oils. Stir for a few seconds so that the essential oils can blend with the base. Pour these in small colourful pots, and let it set overnight. You have a natural and safe headache balm that is ready for use!
What I love about DIY things is that I am aware of what I use and what goes in the products. It helps me live an eco-conscious life.
You can read the posts in detail on my blog too: