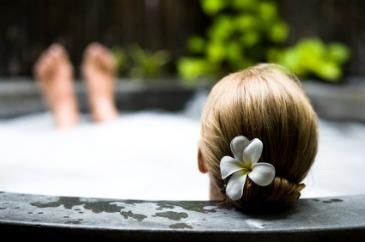 Every once in awhile, we owe it to ourselves to engage in a little indulgence.
Why?
Because to paraphrase L'Oreal, "We're worth it."
I've always believed that when we take care of ourselves and act like we are worth it, we start to believe it—at least, believing it becomes a whole lot easier.
Of course, just like it's possible to believe too much in our sense of self-worth, it is also possible to get carried away while indulging oneself. Indeed, it's amazingly easy to do so: getaways, massages, spa treatments—it all adds up pretty quickly.
However, it's possible to engage in some indulgences without breaking the bank.
Below are four indulgences to do on the cheap for those times when we owe it ourselves to treat ourselves like we are a million dollars without actually needing a million dollar bank account:
1. Turn your bathroom into a spa.
It's amazing how easy it is to accomplish this.
Just by lighting a candle and turning off the lights, my drab, dignity bathroom is transformed by my mind's eye into a grand bathing hall to rival one of the best spas in Europe. (Plus, there is just something about bathing by candlelight that makes me feel decadent.) Toss some rose petals—dried or fresh—in the water and indulge in a homemade salt scrub (I tbs salt, 1 tbs of vegetable oil and essential oil of choice), and viola!  We have a full spa luxury without ever leaving home.
For a truly luxurious finish, end by drying off with a warm towel fresh from the dryer.
2. Take in some culture.
Back in the olden days, the only people who could indulgence in the arts were the leisurely class. Thankfully, that is no longer the case. If you happen to live in a big city or a college town with a lively arts scene, chances are they may have regular "First Fridays" where area galleries display new works of art.
Likewise, many places that offer First Fridays also have free or cheap nights where area orchestras or musical ensembles give concerts.
If that's not available where you live or simple isn't your thing, check out area weeklies or community message boards to see where local rock, country or bluegrass bands are playing. Most of these gigs are free or only charge a small cover price.
Even if you are the type who would rather watch a big-budget action flick, actually going to a matinee rather than watching a film on NetFlix can make you feel like you are taking much-needed time for yourself. (Plus, unlike the latter, there is far less of a chance you will be interrupted while trying watching it.)
3. Invest in some sleepwear use it only for sleep.
We all know by now that sleep is important. We spend a third of our life sleeping. However, many of us wouldn't be caught dead in the things we sleep in including ratty t-shirts, sweatpants with holes in them, etc.
I believe that having a special outfit to sleep in helps to better prepare us for sleep.
When it comes to sleepwear, it isn't necessary to shell out a lot of money on silk pajamas, designer negligees or peignoir sets. (My favorite sleepwear is a pair of PJs that are nearly 10 years old and came from Target.) However, having something nice and that is especially for sleep rather than walking the dog in, working out in, etc. is a nice way to remind ourselves that our sleep time—just like everything else about ourselves—is worth the effort.
If sleeping in the buff is more your style, then buy the nicest sheets your budget will allow. As a rule, the higher the thread count, the nicer and softer the sheets and even discount stores now carry very nice sheet sets at affordable prices.
When you consider how much use you'll probably get out of them, the price per use probably comes out to be much less than other luxuries.
4. Take an hour for yourself for pure pleasure.
When we think about it, time is the one thing that everyone desires more of and can be the hardest thing to get at times. (Even though it is thought by many to be apocryphal, Queen Elizabeth I's last words were said to be, "All my possessions for a moment of time.")
While some people who get this feel they have to do something during that time, just doing nothing can be the ultimate luxury.
If you're a single parent, then see if another single parent is willing to swap with you—they watch your children for an hour in exchange for you watching theirs.
Perhaps you may not get a full hour and instead only half an hour or even 15 minutes is possible. In that case, make the most of the time you have and treasure it all the more.
Taking the time to treat ourselves right is often a good investment. By treating ourselves as the special beings we are, we are more likely to not only remember that even when we are feeling down, but it may even allow us reciprocate that feeling to others.
In any case, it can't hurt—sometimes we all need some TLC.
Love elephant and want to go steady?
Editor: Catherine Monkman

Photos: elephant journal archives