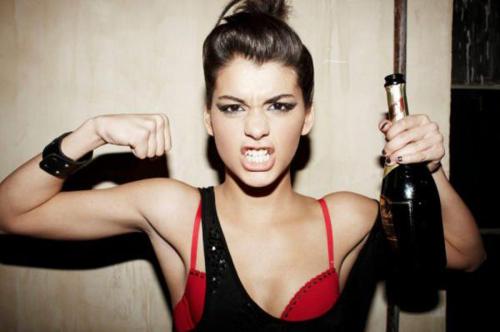 Lent! It's that time of year again when even if you are not of the religious persuasion that makes you want to reflect on bad habits and love of the Divine, you probably should.
Just a few things that might make us better yogis for 40 days:
1. Give up what's left of your mind. You know, the mind, that frenemy who does not freaking shut up during practice. "Your butt is soo big, your hair is a mess, what is up with your pose?" Let that bitch go for Lent and try practicing with a true friend instead.
2. Instagram. For Lent, I am absolutely, 100% going to be happy with what I can do and I'm not going to think about what I cannot do, so this involves staying away from those happy yogis in one-armed handstand. Namaste, Bitches.
3. Caffeine. Wait a minute. It is actually such a bad idea to give up caffeine that I have decided to give up my friends who gave up caffeine instead, because they are so grouchy. Also, in this category are my hormones and my evening vodka and tonic. You simply do not want to be around me without my hormones; it's not safe. So instead, I think I'll give up milk. Yes, I will not have a glass of milk with my evening piece of gluten-free cake.
4. Cursing. I gave this up for Lent once and it was a disaster. Correction. It was a f**king disaster. All I could ever think about was cursing, or not cursing, and so I cursed more than ever. I cursed when I taught, I cursed when I practiced, I cursed in my sleep. However, I am going to try again, over and over, until I get it right. F**k yeah. OMG! I did it again.
5. Technology. Yogis might try giving up all technology for Lent, including Facebook, Twitter and Instagram. Apparently, 31% of Christians are doing this; however I guess they won't be getting tweets from Pope Francis @Pontifex. Of course, this could be the end of #yogaeverydamnday, not to mention the world. If a pose happens on the mat, but nobody sees it, did it happen at all?
And one thing I am absolutely giving up for Lent:
Wait a minute……
I know it will come to me……
Hang on……
Um…….
Oh yes. I am giving up humor. I will no longer write satire. For the next 40 days I will be completely serious. I will tell everyone how to live their life, to be happy and free, and to love all beings. I will tell you what to eat, and how to practice. I will tell you what makes a real yogi, and what is real yoga. I will write about love and transformation. So finally, I will be a popular yogi. Namaste and blessings.
Love elephant and want to go steady?
Editor: Bryonie Wise
Photo: elephant archives