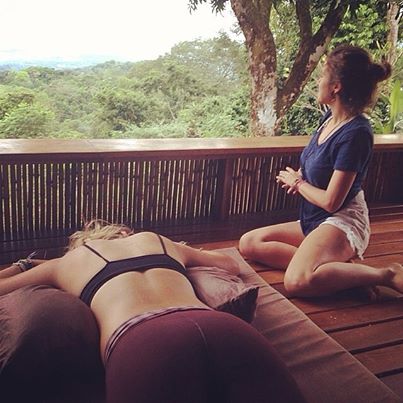 *Editor's note: Rachel is a dear friend and yogi warrior. She is hurting deeply right now. We wish her all the strength in the world and thank her for chronicling her journey so openly with us all. Be well, Rachel. Love and light from all the elephants. 
**
March 11, 2014
Collapsed at 2pm yesterday with overwhelming abdominal pain.
Woke up this afternoon in another country with three surgical scars across my belly, to a world that will never be the same.
People are telling me my best friend has passed away.
I don't understand. I don't think it's true. It doesn't feel like it's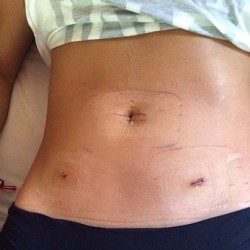 true and for every person sending me condolences I wonder, why are these people writing me? What do they want?
None of this is really happening. None of this is true.
@ahlaluna is lying here in this hospital bed with me, complaining about the color of her bridesmaids dress. She wants seafoam, or dusty blue. It's ok. I tell her she can pick any color she wants, as long as she is there to calm my nerves and braid my hair on the big day.
She strokes my arm and tells me I'm being silly; every day is a big day macha.
And I'm always right here.
**
March 12, 2014
I keep waking up from the same bad dream over and over again.
I've slept since Monday and know now that the second I collapsed on that airport floor was the moment you hit that truck on the wrong side of the road. And the seven hours they tried to revive you was my same hours of unbearable pain.
Two hospitals, one heart.
When they finally gave me a big dose of morphine and I started feeling the pain lessening my phone rang. It wasn't you who called and your phone is still turned off.
I don't know what day it is but they finally released me from the hospital. Wondering how long until you call to tell me it's all a big mistake. We'll take the puppies to the river and watch the sunrise from the beach and dance and hold hands when we sleep and chant with las abuelitas and sing to Shakira and get in the car and drive and drive and drive until there is nothing left but the horizon.
And we'll both be ok and I won't be afraid to wake up in the morning.
**
March 13 , 2014
I went outside today.
Dennis carried me out and I was angry at him for making me leave the room but now I feel something instead of nothing so I guess that's good. I put my feet in the ocean and I thought you would be there but you weren't. Right now you are not here at all so today is a day when none of this happened. I even laughed at something earlier. Ile wrote me, "how are we going to say goodbye?" and my first thought was "who?". It didn't happen at all. Today is just a day and I went outside for a little and now I'm back in bed and that is all.
I wonder where your amazonite is. You spent the whole week in our retreat in December trying to steal this necklace from me because you loved it so much but so did I so I didn't give it to you.
A day after the retreat finished it was your birthday and I gave you a dress and you came home and opened a gift from your your aunt and it was the exact same necklace, not knowing I had it too. Now it's here on my bed. Ringo is here also.
This is life right now and I don't understand how we came to be here.
**
I can walk but not bend forward or twist or stand up straight. I'm hunched forward like a very old someone, my body heavy, gravity pulling me down.
Mostly I want to lie in bed under the covers with the curtains drawn but Dennis won't let me. He opens up the drapes and carries me out of bed and this morning he brought me under the shower and even shaved my legs. If you want her to talk to you, he says, go sit by the ocean. Go at sunrise and meditate with the wisdom we all know you have inside.
Don't lie here in the dark. She is in the light so go where there is light and speak to her. It's sad because I know he is right but the dark is so comforting. And what if I try to reach her but she doesn't answer? Or what if she does? Then this will all be real. And I'd prefer it if it wasn't so drapes and covers and darkness it is. For now.
~
Relephant:
7 Ways to Help Someone Who is Grieving.
Love elephant and want to go steady?
Editor: Renee Picard
Photos: courtesy Rachel Brathen