Meet Mayhem.
It's the endearing nickname given to her by her mom, Angie.
She is four and she loves fashion.
Her and her mom create incredible paper dresses together.
It all started one day, nearly a year ago, when Angie got tired of finding Mayhem's clothes shoved in the toy box and suggested they make a dress out of paper. Mayhem loved the idea and they haven't stopped creating paper dresses since.
The creations have evolved from simple to mind-bogglingly extravagant. Some are carved from the specific inspiration of actual people and characters, some are extracted straight from the abstract mind of a four-year-old.
When writing about Angie and Mayhem, Ilana Wiles of the blog MommyShorts said:
"Having a four-year-old daughter of my own, whose biggest fashion moment was putting a red bow around the waist of her green Super Soccer Stars t-shirt and calling herself "Peter Pan," I had a few questions for Angie." ~ MommyShorts
I can totally relate with that! My four-year-old daughter, Opal, has three outfits—brightly-colored, dazzling, often involving glitter-laden accessories—that she rotates throughout the week.
I am amazed at the vision required to execute even one of these paper outfits from scratch.
And these ladies just keep on creating!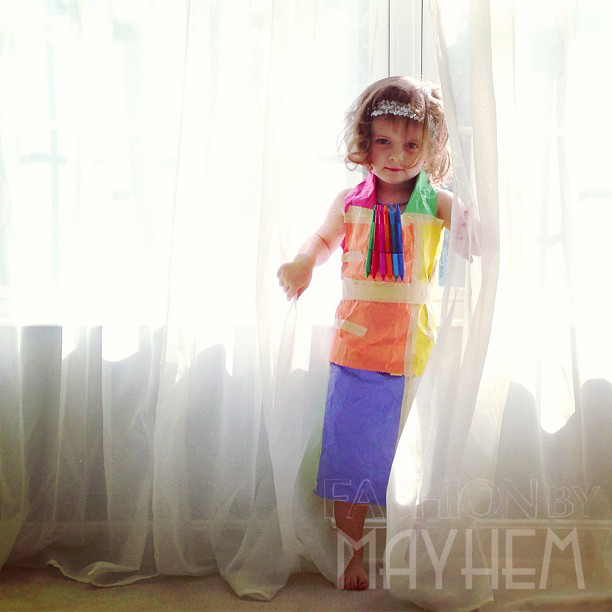 This was the first paper dress.
Angie says:
"We didn't even have packing tape then!  Since that time, we've literally made more than a hundred paper dresses. We've done simple stuff, fancy stuff, outlandish stuff, and gone right back to simple stuff." ~ FashionByMayhem 
This dress was created from the pages of a Travel and Leisure magazine, when Angie was feeling a desire to take a tropical vacation, but felt held back by the extent of Mayhem's allergies. They created this dress, in some ways, to cope.
(Author's note: I can't help but to consider what my clothes would look like if they were paper-constructions of my mood, my situation, my thought-processes. Would I be bound like a mummy, head-to-toe, with taped-together pages from a dictionary? Would I have a bikini formulated of to-do lists written in sloppy cursive on the backs of receipts?)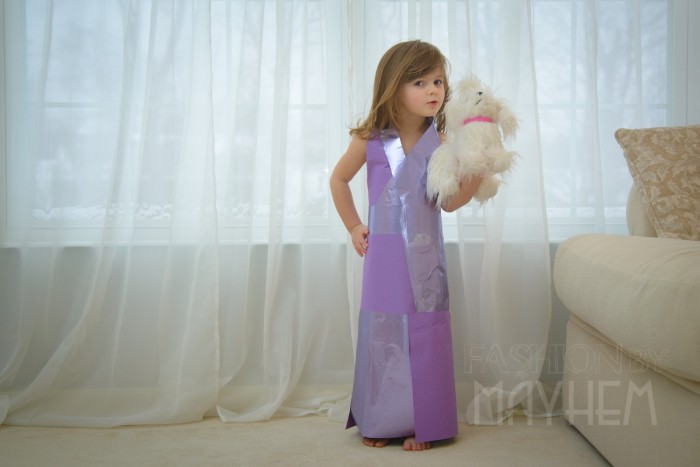 This is true artistry. There is nothing thrown-together or sloppy about this dress-making procedure. Wow.
In an interview with Ilana Wiles, Angie was asked how much is done by her and how much by her daughter.
"The ideas are pretty much a 50/50 split, but Mayhem constructs a lot more than most people would probably believe. That's one of the best things about this project, I see her learning new skills every single day. At this point, she knows exactly how many sheets of construction paper she needs to make herself a top and a bottom. She can lay the entire thing out and tape it together all by herself. Definitely, the more complex designs have more of my time invested, but she's literally always beside me learning something new if she's not tearing or taping or gluing while I am."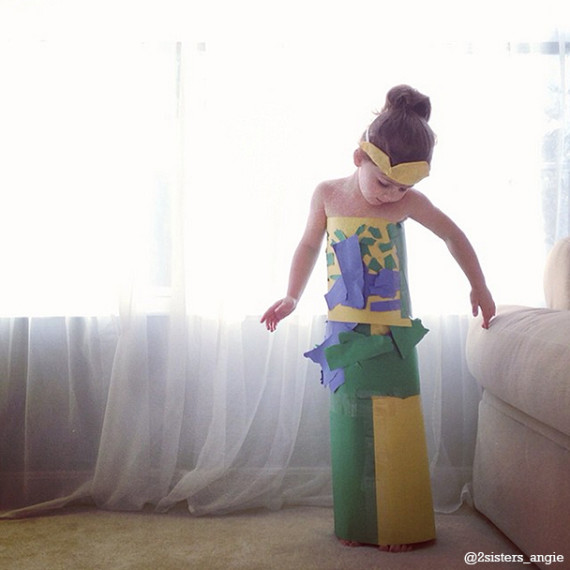 However, Mayhem made this entire dress on her own.
When Angie was asked if she has always been crafty and fashion-oriented, she replied:
"No and no. I actually don't consider myself to be the least bit crafty. Don't ask me to build something out of popsicle sticks and pipe cleaners … you'll be incredibly disappointed! Cutting and taping paper is about all we do. And the most ironic part of this whole project is that I am literally the least fashionable person you will ever meet. In reality, I know nothing about fashion and cannot sew a straight line to save my life. A friend suggested I could start sewing these creations from scraps of fabric and I laughed at her. I'll take paper and tape any day over getting anywhere near a sewing machine!" 
Isn't it amazing, the qualities our children bring out of us? (Or, at least, the young people in our lives.)
We just have no idea what they'll inspire us to do next.
For more images and information about the incredible fashion team of Mayhem and Angie, go to FashionByMayhem, 2sisters_angie and MommyShorts.
Love elephant and want to go steady?
Editor: Renee Picard
Images: courtesy the author via 2sisters Instagram