.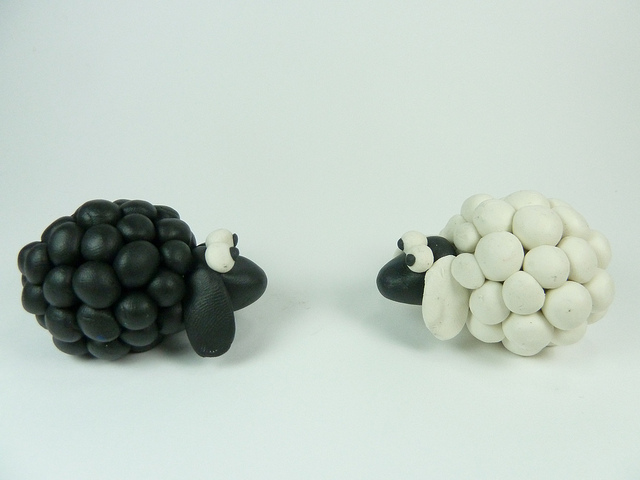 Read Part One here.
I remember the first time I had to check a box: black or white.
I was sitting for my ACT exam my junior year of high school, sweating like I had just run a marathon in the dead of summer with two mechanical pencils on my right and an a terrifying booklet of questions and the answer sheet slightly to my left. On that cramped desk lay in front of me the personal information sheet that I had been told to complete prior to starting the test.
After carefully printing my first and last name, address and high school, I was already stumped. I sat frozen, wondering how in the world someone like me, sitting in a room full of white students, was supposed to complete that section. I hadn't yet read my first question, and I was already doomed.
A short 10 years ago, there was no box next to an option for two or more races—it was white or black, with a note at the top to select only one. I didn't know the answer.
I remember my mother telling me that choosing the black option when the opportunity presented itself would serve me well in life. She was right, even if I didn't identify with that part of who I was—who I am. Based on that exam and checking that box only, I had the opportunity to apply for a minority academic scholarship offered through one of the state schools I wanted to attend for college. I remember writing the required essay in the room I shared with my sister, lamenting about my white upbringing as a black individual.
My penchant for writing over speaking rang true even then, as I remember breaking down in tears during my face-to-face interview—a far cry from my elegantly written essay. My mother was with me that day, supporting and encouraging me as she always had, and I fed off her strength. She reminded me that no matter the outcome of the scholarship, she loved me and was proud to call me her daughter.
A solid three weeks later, I was informed half of my education would be paid for by the university; I had beat out 100 other students for the scholarship.
I was baffled—and I felt like an impostor.
I knew nothing of the my ethnic heritage, nor did I have a desire to fall under one category alone. My birth mother (white) had kept in contact with me after the adoption, but I knew nothing of her relationship with my birth father, or his experience as a black man. Growing up I was surrounded by one group of people alone, and had become fairly comfortable with my spot in the white middle class.
I had grown into my unique looks and embraced the humor that came when those around me had enough courage to ask me what I was. I could have been whatever I wanted, given my lighter skin tone and my funky hair. Hispanic? Hawaiian? Black or white. I used to have people guess, and they never gave the right answer. In all honesty, I didn't have the right answer.
Human. Period.
My time in the traditional college setting was short, as my identity crisis became more powerful than I could handle alone. I used substances to remove myself from a pain I didn't understand, and short "relationships" to feel accepted. After the end of my second semester, I returned home.
I sat across from my mother's desk in her office and wrote down on a small piece of scrap paper my decision after she asked me what was happening with me. I wouldn't be returning to school—without explanation and without concern for the consequences that would follow. I remember the immense disappointment that flooded over her face, and I remember the silence that followed for weeks after.
I moved to another small town an hour away to get away from my own decisions, and continued relying on pseudo partnerships and unhealthy substances to numb what I could only describe as emotional turmoil. Someone at that university took the words of my essay to heart and gave me an opportunity to break out into a more diverse world—I fucked it up. I thought I was a fake, and I let it consume me.
I ran back to the arms of my on and off again high school boyfriend, and he proposed, I think in an effort to have a tighter grip on my then flighty self. Although he was less of a gentleman than I would have liked, and had, put nicely, a less than accepting immediate family, I felt I had no other option at the ripe age of 19.
I wanted stability, and he was the first to come running, despite the glaring signs he would not be my forever guy.
I remember the second time I met his father—an alcoholic, chain-smoking country boy with a sense of humor that could divide any room. He was racist and had no qualms about letting it be known. He made constant remarks about how our future children would never be completely accepted in society, nor would they be able to fully embrace the last name his son would pass on. I felt sick every meal we shared with him, but I felt stuck.
I was raised white, so surely I could make him see I was just as deserving, just as acceptable as him. I gave up on that fight one year into our marriage. We were from different camps, or so he thought, and I simply couldn't fit in to his small-minded definition of a family.
Before giving up on that marriage in its entirety, my then-husband and I moved to the East Coast—he was stationed in Virginia with the military. I embraced the sweeping change. A quicker, more populated, seemingly driven community of young and old, white and black and everything in between. I missed my friends and family desperately as the farthest I had traveled without them was a two hours away, but I looked forward to meeting a new group of people with a new set of perspectives—maybe even someone who looked like me.
Little did I know that my search would end in a divorce, a strained relationship with my own family, and an even deeper emotional pain that would only compound the struggle with my identity.
Love elephant and want to go steady?
Editor: Catherine Monkman

Photo: Flickr Creative Commons