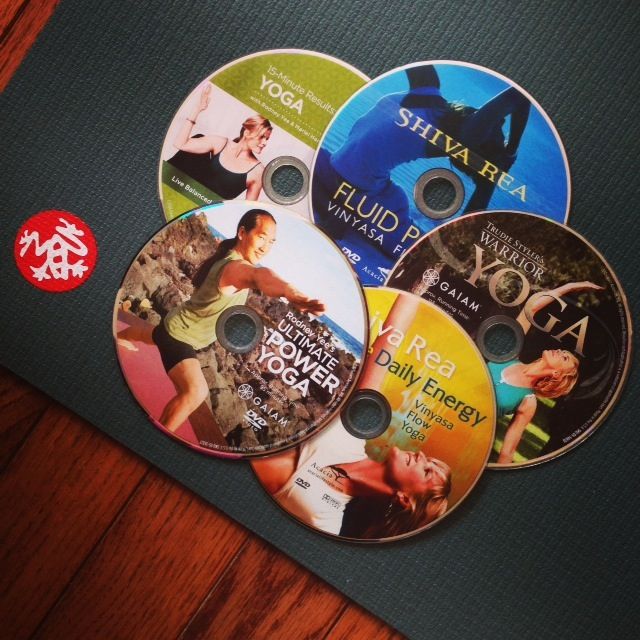 I'm a full-time, single mom with a corporate job and not a lot of free time.
If I want to go to a yoga studio to practice, I need to get a sitter. That's why I've developed a home practice over the past five years that's more suited to my life. I find that even 15-20 minutes of yoga a day can make a significant difference in my wellbeing.
The following are some of my favorite go-to DVDs for short practices (in no particular order).
This DVD has five workouts: Power Foundation (20 minutes), Strengthening Sun Salutations (20 minutes), Sculpting Standing Poses (15 minutes), Broadening Back Bends (20 minutes) and Ultimate Power Restoration (20 minutes). My personal favorite on the disc is the Strengthening Sun Salutations because it's easy to align the breath to the movements and it really is a total body workout. It's also easy to add in a few poses if you desire to change it up.
There are two workouts on this DVD—one 25-minute practice and a 45-minute practice. Trudie is the wife of esteemed musician, Sting, so you can enjoy the more classical side of his music during your asana. I warn you now, the pictures on the screen do not always align to what side the narrator is telling you to move, so you have to pay attention. This is a nominal nuisance, as it really does provide a nice practice at either length.
When I first started practicing, Shiva Rea scared me because there's no way I will ever be that flexible! I've become more comfortable in what I can and cannot do and now I find her practices wonderful for strength building. She motivates me to try more than I may if I stay in my safe zone of the lesser challenging poses. Sometimes I'm even pleasantly surprised by what I can do! This DVD has seven 20-minute practices in a cool "yoga matrix." With the matrix, you build your own practices and make it as short or as long as you want.
As with the disc above, this DVD also features a yoga matrix that's quite a bit bigger, offering more combinations to choose from. The ability to customize your practice is a really nice feature.
This is the best DVD if you're very short on time. It includes four 15-minute sessions that focus on: Upper Body Training, Lower Body Sculpting, Abdominal Strengthening and Total Body Conditioning. I like the conversational tone of this one. It's a great reminder to not always take yoga (or anything in life) too seriously. One of my favorite quotes on the DVD is from Rodney Yee, "Balance is about falling out of center, and coming back to center."
I hope you find these helpful for maintaining a consistent yoga practice despite whatever is going on around you. Take the 15-20 minutes to rebalance and focus on you every day. You, and everyone around you, will benefit from your choice.
If you know of any other short yoga practices on DVD, please share them with us!
Love elephant and want to go steady?
Editor: Bryonie Wise

Photo: courtesy of the author