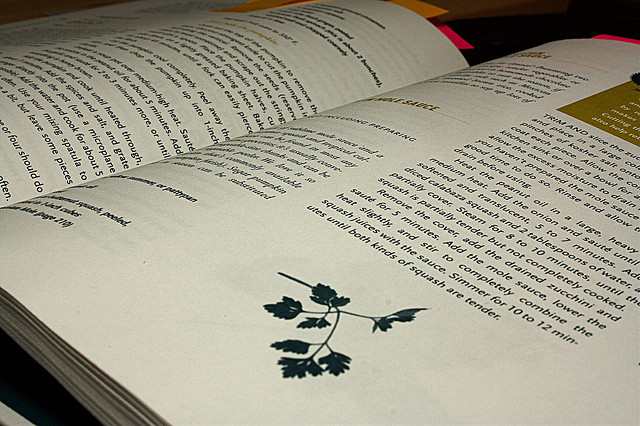 Veganism is the new black (bean), and there is no shortage of cookbooks to prove it.
Most of them have great things to offer if you take the time to fully explore them, but every cook has a short list of cookbooks which, over the years, we come back to time and time again. Their pages are dusted with spices and stained with the splashes of many meals and memories; those special volumes that become like an extension of our culinary souls, and without which we would feel utterly adrift in the disjointed seas of dinnertime.
Here are the cookbooks I can't live without.
1) Veganomican by Isa Chandra Moskwitz
Veganomicon is number one for two reasons; it was the first vegan cookbook I ever owned, and it is also the best.
Moskowitz has a way of making me feel like a pro, even when I don't know what the hell I'm doing. Her laid back writing is comforting and charismatic, kind of like having a really cool best friend who happens to be an awesome cook standing right there next to you in the kitchen.
Her recipes are unique and broadly applicable; great for weeknight suppers, fancy dinner parties and everything in between, and they all turn out exactly as they are supposed to, which is where a lot of other cookbooks miss the mark.
They are also do-able—not always easy, because Moskowitz has faith that sometimes we want, and are capable of, challenging ourselves—but you certainly don't need any special cooking experience for her recipes to work for you.
2) Appetite for Reduction by Isa Chandra Moskowitz
It is a common misconception that by going vegan you will become naturally svelte, but if you're not careful, a vegan diet can be just a calorie dense as any other.
In Appetite for Reduction (also my favorite cookbook title), Moskowtiz offers exactly the same viewpoint as she does in Veganomicon, it's just much more diet friendly.
If you only two vegan cookbooks, they should be these.
*Find more (and free) Isa Chandra Moskowitz online here , and no, this article is not sponsored by Isa Chandra Moskowitz—she's just that good.
3) How To Cook Everything Vegetarian by Mark Bittman
This impressive tome is stuffed with every kind of vegetarian cooking technique and flavor profile that has ever existed on earth. Ninety percent of the offerings here can be made vegan if they are not already simply by switching out oil for butter. I think of it as my cooking encylopedia.
Mark Bittman specializes in breaking things down into simple steps, and then offering tons of different tweaks and options that turn one recipe into a dozen different dynamic meals. He is the master of riffing, and with him, you'll become a master too.
Seriously, I would be so lost without this cookbook, I'm going to have to put a paper bag over my head just thinking about it.
4) Quick-Fix Vegan by Robin Robertson
Robertson promises dinner in 30 minutes or less, and boy does she deliver.
Straightforward, hearty vegan food is the focus here, and as someone who not only has vegan leanings but a prodigious appetite and a hectic life, I appreciate her point of view.
With over 200 recipes, Robertson also represents world flavors well, going from Thai to Vietnamese to Florentine flavors as easily as I go from the counter to the fridge.
5) The Voluptuous Vegan by Myra Kornfeld
The Voluptuous Vegan is the antidote to the idea of vegan food as flavorless, unsatisfying and bland.
In this lovingly compiled book, Kornfeld not only gives us recipes, but entire gorgeous, show stopping meals. It's one of those cookbooks that makes your imagination take flight and inspires impromptu cooking marathons and hurried phone calls to friends inviting them to come over and taste this blowing-your-socks off thing you just made.
But to Kornfeld's credit, this is not just a fancy shmancy stuff—her recipes are great for everyday cooking as well. Like the other cookbooks mentioned here, she is an expert in creating flavors from all over the world and offers great insight on technique and boat loads of helpful tips.
*Bonus
Want to go vegan but not ready to commit to a cookbook just yet?
For free recipes and great info on the benefits of veganism, check out the Wholevana website, and may I specifically recommend the Zen Bowl. A perfect gateway dish for novice vegans, it will have you dancing with vegetable glee before you can say peace, dude.
Love elephant and want to go steady?
Editor: Catherine Monkman
Photo: Flickr