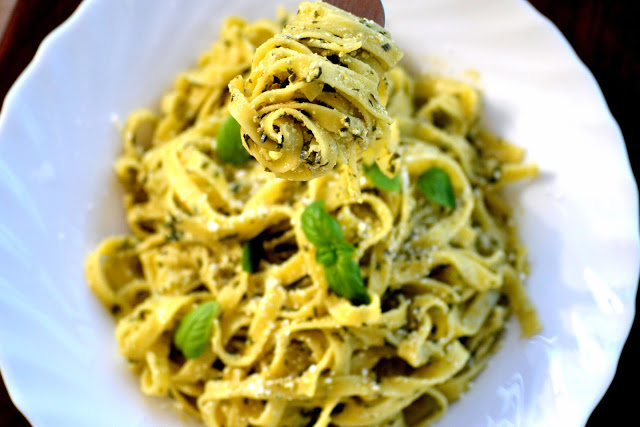 Mushrooms, basil, olive oil, garlic—four of my very favorite things. Put them all together in one simple and elegant dish and you've created culinary alchemy; a dish that, like all the best dishes, is far more than the sum of its humble parts.
This recipe was my first public venture into the world of veganism—I served it nervously, long ago on Figure Eight Island in North Carolina during my family's annual beach week reunion.
During these get togethers, we each take a night to cook, and that can be challenging because we are a large group with varied palates and dietary needs. This meal, however, was one of my best efforts, proven by its place in our group memory as "that amazing mushroom thing" which lingers in the consciousness, as such legendary meals do, long after the last plate is scraped clean, through the years and perhaps even down a generation or two.
I take no credit for the flavors I created—they are the ancient staples of Italy, a culture so passionate in its romance with food it is impossible not to get swept up in the miracle of it.
Just follow these tried and true steps, and you too can get "that amazing mushroom thing" on the table and be lauded as a Pesto Hero for time immemorial.
Linguine with Pesto and Wild Mushrooms
Makes four generous servings and can easily be doubled or tripled.
For the pesto you will need:
1 bunch of fresh basil, about one cup
1 tbl olive oil
2 tbl pine nuts
juice of one lemon
4 cloves garlic
sea salt and fresh cracked pepper to taste
Put all ingredients in a food processor and blend until smooth, adding water if necessary to get the right consistency, which should be thick and creamy. Make and set aside in an airtight container up to a day in advance if desired.
For the rest of the dish you will need:
3 lbs wild mushrooms, sliced—I like a combination of portobello, shitake and crimini but anything will do as long as you choose mushrooms with varied textures. This is a good place to experiment. Also, I know this seems like a lot of shrooms, but they will cook down to about 1/3 their original volume.
Tip: Asian markets have lots of interesting mushroom varieties to try.
2 packages fresh linguini or other pasta—Fresh pasta is so much better than dried that it really is worth the extra expense, however, in a pinch, dried will do. Beware, if you are a strict vegan read the package label; most linguini is made with egg. If you can't find one that isn't, simply choose another pasta shape or brand. By the time you get the mushrooms and pesto on top of it, all things will be relatively equal.
2 tbl plus good olive oil
more sea salt and fresh cracked pepper to taste
fresh basil to garnish
To prepare:
Bring a big pot of water to boiling with a dash of salt tossed in and about 1 t/l olive oil. Meanwhile, in a large saucepan, heat 2 more t/l olive oil. Toss in all mushrooms and sauté until they begin to release their juices, around five minutes. Take half of your pesto and add to mushrooms, stirring around so everything is thoroughly coated. Cover and set aside.
Cook pasta according to package directions and drain, reserving about a 1/4 cup of cooking liquid. Put pasta back in it's cooking pot and add the second half of your pesto plus a t/l or two of the cooking liquid plus more if needed, and mix around thoroughly until everything is coated.
Plate pasta and divide mushrooms evenly on top. Drizzle each plate with a little more olive oil, garnish with fresh basil leaves and serve with good crusty bread if desired.
Tip: For an easy gluten free or low carb option, substitute spaghetti squash for the pasta.Simply use one squash per two people.
To cook, split squash in half and place face down in one inch of water. Bake for 45 minutes at 350 degrees. Let cool and then scrape squash out in long strands with a fork. Place squash in a large bowl and mix with pesto, using a little veggie broth or water if needed to get all the strands coated.
Love elephant and want to go steady?
Editor: Catherine Monkman
Photo: Daniela Elena/Pixoto