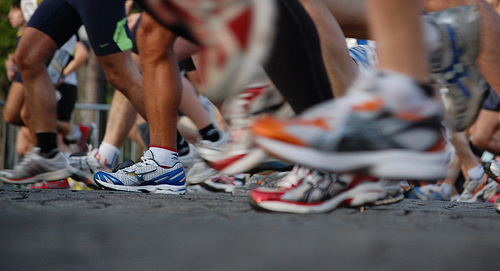 In running, there is a fine line between wearing shoes for the sole purpose of going for a run on a given day and choosing a running shoe based on your own personal style and goal of running.
The ergonomics of running is a science.
The shoe you wear to perform any type of running, (ie. interval training, track running, trail running, pavement running, or racing) can make or break your performance. The best way to ensure a successful running career is to have the best quality shoe for your foot.
I have been running for over 20 years, often in shoes that are so worn out, I forget that the reasons my knees or hips hurt might be due to the need to upgrade my footwear. I always think I should know better, as there is an age-old rule among runners regarding the time limit on shoe mileage-over six months of consistent running is the time to buy a new shoe.
If you are a weekend warrior, chances are you won't need to change out your shoes until every eight months, or even a year. These aren't set it stone, as the protocol can differ for each person based on body type, training, and overall weekly mileage.
I tend to let my knees guide me. When they start to talk, it's time to upgrade to a new pair of shoes.
When you have decided that running is your activity and exercise of choice, it will be a natural segue into what type of shoe works best. Running speciality stores focus solely on making sure that every customer that walks in the door is taken care of with the perfect shoe fit. Every running shoe specialist who is trained to meet the needs of the customer must have some sort of blueprint to work from, which is why knowing your needs is crucial.
You, as the customer, must go into the store equipped with your understanding that it will take more than an hour to determine what running shoe will match your foot strike, posture, gait, and any injuries that you have suffered from over the course of your running days. You will need to show these professionals your running style several times with many different shoe options.
There is a science to the running shoe specialist/customer interaction: your running ergonomics and the care that goes into your feet will be taken into account while choosing the right shoe.
If they merely suggest a shoe, without witnessing your running behavior is asking for possible trouble and injuries down the road. Everyone who runs either pronates, supinates, has one foot doing something completely different than the other foot, or one foot longer than the other, has flat feet, high arches, and the list goes on. It is truly remarkable how a great running shoe can make or break your running adventures and performance.
Here are three factors to consider when choosing the right shoe and before you even set foot in a running store:
1. Do your research.
More often than not, venturing into a running store with zero knowledge on what your needs are will almost always confuse the running shoe specialist attempting to help you. If you have the wherewithal to know that your current shoes aren't cutting it for you anymore, and you have surpassed the required six months' time frame of running shoe stability, then researching online or talking to friends and getting their opinions will help.
The main component of choosing a running shoe is to know your body type, how many miles you plan to run each day or week, and what type of surface will most likely be your go-to for pumping out those miles. Prior research goes a long way in choosing a running shoe. It is similar to buying a car. Due diligence in the running shoe arena can make a difference between success and failure.
2. What are you willing to spend?
Here is a tricky question as most beginning-and even advanced runners-know that the top quality shoes come with a hefty price tag. Racing flats aren't cheap either. Once your running shoe specialist identifies your running style through observation and discussion, countless options of shoes are brought out for you to try on. Here is where the hours of training these running shoe specialists get to perform their magic.
The seasoned veterans who work at speciality running stores spend weeks and months of training on how to identify discrepancies in a runner's style, and which specific shoe would work with that style. Most times they consult each other during the customer interaction to gather more feedback, as they don't want to put the runner in the wrong shoe. And, each time that the potential buyer feels the care and precision that goes into fitting them in the right shoe, the cost is never an issue.
But, spending more than your fair share on a good running shoe means you are serious. Only the best manufacturers who make the best running shoes will charge what they are worth. If you care about running, you will spend what you feel your sport is worth. Simple.
3. How serious are you about your health?
We run because we love it. We run because it keeps us in shape. We run because our health depends on it. This is nothing to sneeze at. Running is the foundation for almost all sport and livelihoods of health and well-being. It is the most natural form of movement that our bodies can do, and how we function within that framework is what running is all about. We run to lose weight. We run to ward off ageing. The overall concept of health is a broad topic, yet running is at the top of the list.
Many people complain about knee problems, back problems, or quality of air, anything to avoid giving it a try or attempting to remain consistent. They are valid concerns, yet running at an early age will create a body awareness of good solid health. All the problems related to joints and muscles and air quality are simply caused by laziness. Laziness that resonates into other problems. We aren't meant to spend our days sitting on a couch or at a computer all day.
Get out and run! Play like a child. If you are serious about your health, then having a quality running shoe to accompany that seriousness will take you straight to the best running store in town, no matter what, and you will gallop out of there feeling all frisky and youthful about sweating it up in the glorious outdoors.
These three factors are your ticket to considering the best shoe for you. It is imperative that when you run, your feet feel great and comfortable, your mind isn't focused on any hindrances within your foot strike, and you can be aware of all the beauty around you.
Even if you choose to run barefoot (or with minimal support, say Vibram Five Finger style), running is a way of life, and a good reason to propel you forward.
Love elephant and want to go steady?
Editor: Renée Picard
Photo: Wikimedia Commons