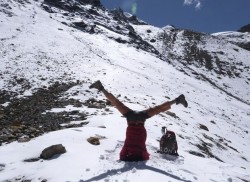 "You cannot push any one up a ladder unless he be willing to climb a little himself." ~ Andrew Carnegie
Just got back from an amazing Ski Touring Trip! The trip started with a helicopter ride into a lodge so remote that winter was fully going on upon touchdown—even though it was the end of April. We spent the week skiing hard, eating well and taking in the beauty of the Rocky Mountains.
After practicing yoga for more than twenty years and teaching yoga for almost equally as long, every life experience has the watermark of yoga.
And so as the week's adventures of hard skiing, glacier crossings and everything in between went on, a part of me intrepreted these experiences through this yoga filter.
I'm always interested to note how a group leader interacts with the people in their care.
I'm curious to see how they balance group dynamics with giving space for everyone to contribute, and at the same time, offer an experience that leaves people fulfilled.
So, as I participated in the week's activities, part of me also hung back and observed how the guide handled our more challenging moments.
In the classes I teach, I usually offer up more intermediate/advanced postures for people to try. This has given me a reputation of being a teacher's teacher or that my classes are more difficult. Within the framework of the challenging classes I teach, I make sure to offer options for a few levels. always giving people the option to do a little less.
That said, I also set an intention for those who are ready—to progress.
I was once asked how to move forward and advance a group of yogis when the mood of the class is perhaps less strong than my intentions for them.
I thought of this question one morning on this ski trip after three hours of making a slow ascent to a col that was 45 degrees of vertical. Our total climbing that day was well over 5000ft. As we stood at the bottom of the rising mountains; my husband, myself, a skier from Colorado and 4 guys from Ottawa with our guide, I began to sweat.
This time it was more out of nervousness than the work that had been put into our morning's journey. Our guide was a young guy from Revelstoke with a deep spring ski tan and a big smile. He had a funny habit; the more challenging the terrain got and the more herculaen his requests became, the more singsong his voice would grow.
So as we stood there at the bottom of this incredible hike up, with wind blowing and the skies vaccilating between light flurries and full-on blizzard conditions, the first words spoken were a rise and fall that went from a high pitch down to a tone so low it dissolved. And I knew we were in trouble. We had already spent the morning navigating holes and crevasses as we hiked, my adrenaline output was at a fevered pitch.
As casually as he could, he sang out what the next hour was going to look like. Informing us he would go first to make sure avalanche conditions were not prohibitive, he asked us to traverse, one at a time to a cliff to the slight left of the col where we would then take skis off, pack them on our back and hike to the top. He singled me out to go after him as I had the most energy and stamina that morning.
I would have taken that as a compliment except my heart was pounding, my head racing with all sorts of what-ifs, with my mind directing me to leave the area immediately—I was way out of my comfort zone.
But as the guide waited for me with a quiet confidence, I started to feel that as long as he felt I could do it, it was possible.
Not only that, but he had done this kind of climb before and was leading this entire group up and over without batting an eye and I was not the least experienced of the bunch.
After getting the instructions, he turned toward the saddle and skinned away until he was a dot beneath the cliff he had pointed out. We watched the dot turn in on itself as he knelt down to take his skis off and expand again as he rose up with skis on his back and started to ascend. "Go ahead" my husband gave me a little pat on the shoulder to encourage me and I started along.
"Sam thinks I can do this, so I must be able to" I kept saying to myself.
Needless to say, I made it home alive only after strapping skis on my back, hiking up, and trying to match Sam's boot holes in the snow with mine. I had a few moments of panic; once, when I noticed he had scrambled sideways—that would mean I had to break my rhythm of climbing that had become a mantra in my head keeping me calm.
Again, when I stuck my ski boot akwardly in the hole he had left in the light snow and my foothold fell through. I had to have a chat with myself, "Its possible to make other boot holes by myself, its snow, right"? Got to the top and watched my fellow groupmates emerge over the rocky edge, white-knuckled beneath their gloves and hanging on for dear life as the whipping wind rose up to greet them.
So, what does teaching yoga have to do with being a ski guide?
I realized that I'm not a tough teacher. Just like Sam had once hiked up and over a steep col in a blizzard for the first time and felt the same fears I did that day, I've been at the same point in my yoga practice as the students at the studio. As their teacher, I am confident they can do more.
Experience as a teacher has taught me to read bodies, to know where my students' mental edge is as well as their physical one, and when I ask them for a little more its because just like Sam:
I know they can dig deeper.

I know they can reach for more than they think they can achieve.

I know that part of the journey of yoga is to step outside the limits that we only impose on ourselves.
When we look at yoga teacher as guide, we can inspire our students to move forward in their practice. We can take on their fearfullness and give back equinimity. Holding space for their emotions but still asking, allows them to not attach to those fears, it teaches them to feel the feelings but still move forward.
Like most aspects of yoga, this is a lesson or a tool that they take off the mat and translate into self-assurance in other aspects of life. More subtly, the student learns that feelings that arise don't have to snowball into reality, that its simply attachment to them that creates their solidity.
Ultimately it is this kind of knowledge that practitioners of yoga seek, on an conscious or unconscious level.
Love elephant and want to go steady?
Apprentice Editor: Jessica Sandhu / Editor: Renée Picard
Photos: Flickr