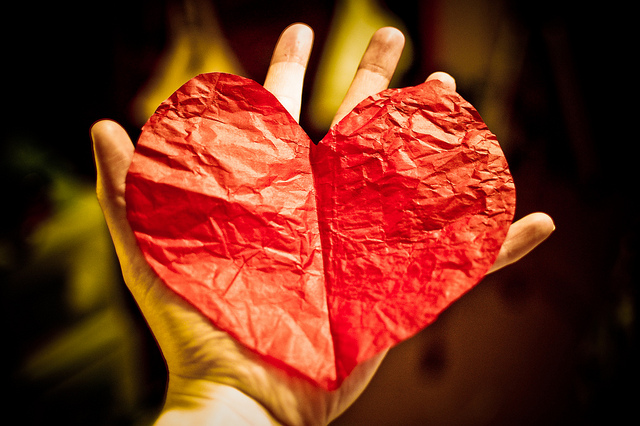 I haven't written much on relationships and love recently because I haven't been feeling it in my own life. It's there, but I haven't been.
The past few months have been ones filled with growth because of the lessons I am clearly having pounded into my head, again. I write about love today, because it's time.
Many of us, who had relationships that didn't work out with people we considered our soul mate or "the one," wish for the day it no longer makes us catch our breath or stab us in the gut.
Along with my life lessons, the clarity around my recent past relationship has become a part of this growth. There were days, weeks and months of growing clarity for what was the truth in the relationship.
From the perspective of not holding on, wishing or hoping for the resurgence of the relationship, here are some of my truthful observations of the time I spent in this soul mate situation:
>> "Relationship" isn't really a true way to describe an ambiguous situation in which words are spoken of love and care, but rarely, if ever, acted upon.
This past theme in my life was the consistency of non-movement into a forward direction. At the time, I told myself wonderful stories based on words, while battling the sense of emptiness that widened daily.
>> Sacrifice of my needs and desires while lying to myself that at some point in the future I would be rewarded for all I gave up.
The truth is I didn't think I was worthy of more, because I'd never had more emotionally, I was used to crumbs and sacrifice. I made my needs something to place on hold.
>> After working though my last bits of anger and rage for how he rarely showed up and for his words meant to keep me on a string, I wondered, what had I achieved by staying?
I asked myself a few questions, so I could get clear. What did I want? What was I saying about myself by coming and going several times? Why couldn't I let go? And as those answers came, I knew I would never be there again.
>> He was like my father in so many ways, the most like him out of everyone I dated and married.
I unconsciously was still trying to get what I didn't when I was a child. The pull to him had been excruciating in its magnetic force and at times, I felt helpless to do anything, but turn inward and state my truth outward. Stating my truth was something I became really good at in this situation.
>> I allowed myself to believe in the bigger fantasy.
I lived in the delusion for five years. In the end it was the same. He didn't show up any differently and would in fact still disappear, I wondered if I would ever be free.
Until I was free.
>> Clarity may take years for some of us, attachment is so strong, we think it's about the present, but it's about the past. This was me.
I came to a bazillion realizations about myself in my time with him. He kept coming back, I never sought him out to try once again. Each time we reconnected, our interaction became shorter and shorter, because I was clearer about the relationship.
>> Through honestly seeing myself, my motives, and practicing self-love in degrees that speak of risk, happiness and the substance of love; freedom was gained; attachment was lost.
The gradual movement toward meeting myself, naked,  face-to-face and saying, "I love you enough to live in the present and not lie to myself about what I'm doing." It's only through self-immolation that I had told myself untruths and as I burned in the fiery hell of my unmet needs, I realized it was my choice.
Leading me to…
>> Choice.
I started making choices for myself, which had no bearing on the outcome between the two of us. I emotionally (not just intellectually) knew I deserved more, and I lived fully into that space.
I was at peace more often.
I wasn't locked in a losing battle and when I was done, I was okay. Deep down inside, I knew it would never be what I wanted and I was okay. I absorbed an entirely new perspective on love and relationships; I was okay. No roof was going to cave in when I chose me; it was the ultimate road to my salvation and learning the substance of love.
Relephant:
Love elephant and want to go steady?
Editor: Catherine Monkman
Photo: Britt-knee/Flickr