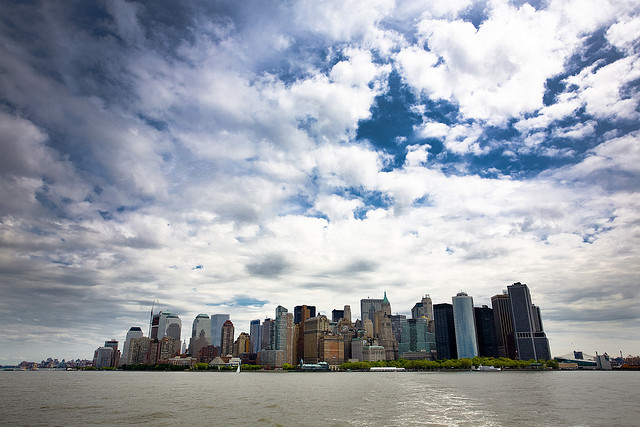 It's coming.
I can feel the solid block of ice in my belly. The muscles in my back are tight, tighter than usual, so wound and wired that simply getting in and out of my office chair is a huge production.
I am trying so hard to be good—to eat well and sleep well and stay loose. And I am doing these things, for the most part.
Secretly (or openly as the case now is), I want to wrap my arms around a jeroboam of cheap wine, eat big greasy slices of pizza until I throw up, go shopping and spend all sorts of money I don't have—anything to blot out this yawning chasm of fear.
What am I so afraid of?
Going back. Going back to where it all started, the nightmare I conceived and lived that almost killed me.
New York is many things to many people, a place of endless iterations: to me it has two faces—the city I knew before drugs and the city I knew after.
Before, how I loved it. I moved there with a few hundred dollars and a little grey bird, and forced my way in. The city didn't want to make room for me, and proved it by sending teams of cockroaches to raid my apartment, demanding all but the smallest sum of cash and filling my lungs daily with ash and fumes—but I didn't care.
What was the allure? My dad called New York "a third world country" and he should know—he grew up an hour away on the Hudson.
"Why would anyone choose to live there?" he asked me repeatedly.
It is a hard thing to explain. Manhattan feels like the beginning and the end of all things, the fountainhead. Ideas and energy are at a hard rolling boil, and I wanted to be in the pot.
I was proud to belong there, jumping curbs in my Rollerblades, scouring flea markets on a Sunday afternoon, buying olive and fennel twists from Amy's Bread, knowing the nooks and crannies only a native can know.
But I was lonely, and by the time I met the guy I thought the sun rose and set upon, I was tired of duking it out on my own. He loved New York, too, but as everyone who lives there does, he had his own interpretation of it. For him, it was Wall Street, strippers and cocaine—a fact that I was slow to realize.
For a while, I thought he was just showing me shiny toys—we were playing, it wasn't serious. Until it was.
It is strange to have been a 25 year old woman who never did anything particularly bad (or particularly good), who suddenly allowed herself to go completely off the rails.
One day, I was a person who worked and paid her bills, returned phone calls, who made art, ate meals at regular intervals and talked to my parents on the weekends and the next, I was a furtive thing: evicted, homeless, buying drugs on the lower east side with the remnants of my 401K.
As long as I live I will still not know how that happened.
It went on for years, a downward spiral that seemed bottomless—just when I thought things could not possibly get any worse they did, like some TV drama—except it was my life.
When I was 29, I left him. When I left him, I left drugs too—they were a package deal as it turned out. I reinvented myself and began putting the pieces together of the woman I was to become; a mother, a wife, a teacher, a writer.
But underneath, they are always there. The things I did.
Now I am 44 (my lucky number). It has taken me 15 years to wrangle the strength to go back to Manhattan on my own. I have my ticket, the hotel is booked. On the docket, a photo shoot with Robert Sturman, a bike rental so I don't have to lug my Rollerblades on the plane with me, a visit to my old apartment to sit on the stoop and meditate, and meals in places where I dined and dashed, so I can leave extra money on the table when I'm finished, as I should have long ago.
What else? What places should I go? I want to seek out the monster that was me, look her in the face and whisper, "I accept you. I forgive you. Let it go."
I will not run, I will not hide. But I can't lie, I'm terrified.
I'll hang on to the love of all the people who have heard my confessions and accepted me already: there are many. Tucked in among these munificent souls I will be protected, harbored from the self hatred and ignorance that pushed me down the wrong road in my youth.
I will remember that I am loved, that I am love, and that the only thing that matters is honoring that truth.
Love elephant and want to go steady?
Editor: Catherine Monkman
Photo: Kenny Louie/Flickr