The appeal of technology is universal.
And yet, I can't help but to wonder how all this technology will affect the generations of our future.
Three Hyper Island students (Caio Andrade, Rafael Ochoa, and Linn Livijn Wexell) dreamed up the idea of making "Not Available on the App Store" stickers as a reminder to get kids away from the screen and into the real world.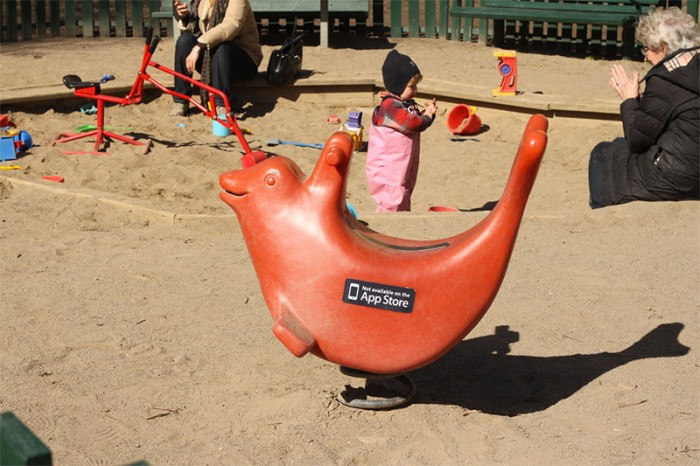 However, kids are not the only ones to be targeted with this fantastic campaign. I can't tell you how often I see parents at the playground glued to their I-phones while their kid plays in the sandbox with a branch, a pine cone and an invisible friend for company.
These stickers can be just as much a reminder for the grown-ups—regardless of if they are parents or not—to break away from their preferred mode of technology to allow their hair to get tangled by the wind, their cheeks to flush from the sun.
I love how clever little mindfulness tricks like this get me thinking. In this case, creating a mental list of things there is not an app for turns in to a veritable gratitude list. And the list is bottomless.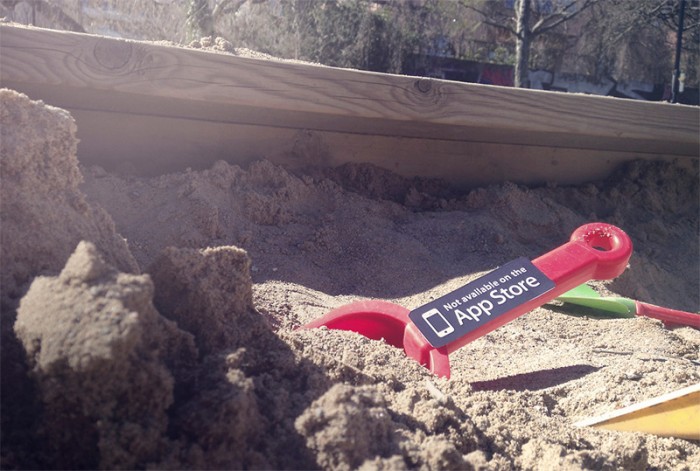 There is not an app available for the running-tackle hugs of my daughter, the snores of my biggest Elvis dog, the hilarious phone messages of my husband, the tiny leaves that are squeezing from the branches of our maple out front, a house filled with the smells of dinner and cornbread, a campfire, a slow swim, a fresh-cut tulip, an afternoon spent snow-shoeing through the mountain-forest, a game of apples-to-apples with new friends, way too much wine and Easter chocolate…life, life, life.
For photo source and more similar images, go to the Not Available On the App Store website.
Love elephant and want to go steady?
Editor: Renée Picard
Images: Flickr / #notonappstore