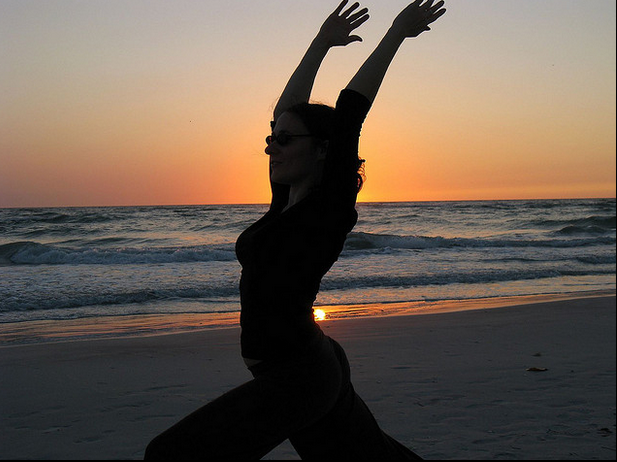 Or thinner.
Or more flexible.
Or more popular.
Or more attractive.
Or more successful.
It isn't even a guaranteed way to fix your lower back pain (for that, you need a teacher who's studied more than the basic yoga anatomy. Yoga therapeutics is real, but it's a skill, and not every teacher is equipped to offer it).
Yoga, done with patience and consistency, will show you the depths of the world as it is.
Which involves shining a light on all the places you thought you had your act together and showing you the cracks. It is a practice that will guide you to yourself, sometimes gently, sometimes with a full kick on that yoga booty (no matter what that yoga booty looks like). Yoga will break you open and leave you shattered again and again, if you're doing it right.
But what brings us to the mat, at least the first time, and sometimes even for the first few years, is something from that list above. We want to be better versions of ourselves, and yoga seems like the way to do it.
So we show up. And we assume, or sometimes are even told, that certain poses will open us up to the experience of ourselves as perfect. We assume, and are sometimes told, that the mark of a good practice is a blissed out attitude.
Sure. Sometimes it is. And sometimes it isn't.
The practice of yoga is a practice of opening up to the underlying reality of the world. Part of that is bliss. Part of that is pain.
Ignoring the pain to chase the bliss isn't doing us any favors.
The choice to pursue a life of radical embodiment requires that we get comfortable with the shadow. It very likely means we're going to spend a lot of time on the floor, or weeping into our pillow. Using skillful, committed practice involves spending as much time as we need to in the uncomfortable emotions. It doesn't mean dwelling there indefinitely, but we're going to know the place really well by the time we're done.
Seek teachers that have explored their own darkness enough to be comfortable witnessing you in yours.

Seek communities that honor the struggle rather than glaze over it.

Seek friends that would never dream of telling you not to cry, but are willing to hold you, snotty face and all, as you dive into the thick of it.
Yoga creates a richer, more dimensional life. Dimensions create shadows. Embrace the shadow. It's the only way through to the light.
Love elephant and want to go steady?
Apprentice Editor: Jessica Sandhu/ Editor: Renée Picard