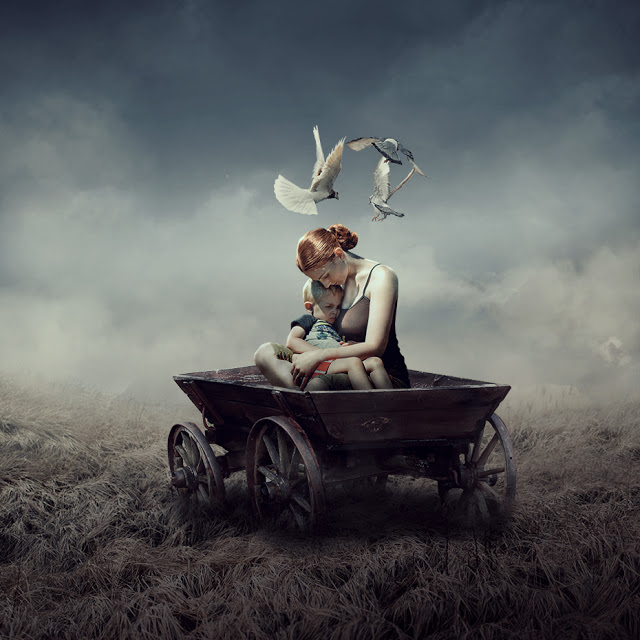 It is one of the longest days that she can remember, and she doesn't know if she can make it through the rest of daylight.
The silence is darkly deafening and her heart screams. She shakes her smallish head and pounds her rickety fists into the air, but not on purpose.
Sue is jonesing for a Xanax, and not cheering at all for her yellow-haired kid who is kicking a soccer ball just a few feet away outside.
Robby gives a loose high-five to his mom and then chases the toughened ball a few yards away just near the neighbor's jaggedy-edged red fence.
But it might as well be a hundred miles away, as her boy looks so very small and too quick to move in front of and behind trees for such long, long distances.
"There he is again," she says out loud, as she places her hands slowly over her eyes to shut out the harsh seasonal colors of spring.
She told her husband in the morn, "I think Sean is stealing my meds again. I know I had at least four or five pills left."
She doesn't realize she was shouting right in his ear, and that she had been repeating this same line for a few days now.
"Sean's away at school," her husband drafted back.
"I'll be back around 10 tonight, but don't wait up," he said, as he sank down the stairs and out into the world. She never "waited up" and he knew that.
She is always loaded and passed out by eight or so on at least four different prescriptions she mixes with hard liquor. She worried for about a second that she might be hallucinating again, but that thought quickly went away.
As she looked into her hallway mirror, she no longer recognized herself. She used to be attractive. Not the pageant Homecoming-queen type, but "very pleasant to look at," as her mother always said.
Who was that looking back at her now? Some forlorn old lady, she thought, and not so pleasant-looking at all.
Where there used to be bright chocolate-colored eyes that danced and spirited when she talked, now had hallowed holes in their place. Where there used to be a slight dimpled chin and round rosy cheeks were now replaced with the grayed and loose flaps of a face.
And where there used to be a head of curly auburn sun-toasted hair was now a tousled mess, covered in bumps and bruises, and filled with headaches from hangovers and withdrawals.
What started out as Mother's Little Helper has now become her worst nightmare.
"I just want to disappear," she cries. "No one would miss me, no one. Who would miss this?" she asked, pointing to herself.
She thought her mommy-friends meant well when they first offered her a little taste of what they called "heaven in a bottle" after she complained one day of feeling "way too stressed-out and overwhelmed."
Her first little highs were euphoric, and yet gentle and "oh-so-soothing." For the first time in years, she actually felt happy, so she thought. Even dinner parties, PTA meetings and family gatherings were not only tolerable, but enjoyable . . . in the beginning.
Her first experience into her now tripped-out, private existence was when she innocently asked some old friends at a luncheon if they had "anything at all" for her headache.
"These will help with your head and take the edge off hon," said one already-addicted friend, as she dropped six pills into her purse.
Another friend confessed she got her first high after stealing from her sister when she returned home for a summer visit.
"I don't know how I ever got through the day without these," she said, as she grabbed a cup of coffee to wash more than 10 milligrams down the hatch.
"I am such a better mom now that I'm relaxed," she said.
But like all drugs, they lose their effectiveness after awhile and soon enough there is never enough to get that first and second high back again.
Prescription drug addiction is at an all-time high for women, but no segment of the population is safe.
Every age, color and economic segment of our population, including preschoolers and the elderly are now becoming addicted to "legal drugs" at surprisingly high numbers.
And who are the drug dealers? They are doctors.
There has been a dramatic increase in the use of prescription drugs as physicians have become more liberal in prescribing them, according to DR. Leonard Paulozzi, medical epidemiologist at the CDC's division of Unintentional Injury Prevention.
And Joel Saper, founder of the Michigan Headache and Neurological Institute in Ann Arbor, said that he knows that drugs are being over-prescribed.
"It's one thing to use these drugs for surgery, trauma or burns," said Saper. "But this stuff is given to teenagers for headaches."
A teen I will call, Matt, knows about the pain of addiction all too well.
He lies, cheats and steals anything he can so he can afford to buy a multitude of prescription drugs at different doctor's offices. He has even managed to fill drugs in his parent's names without their knowing.
For Matt, heroine, pot, meth and LSD don't do the job. Like millions of teens, he is hooked on Oxycotin, Vicodin,
Adderall and even cough syrup.
"F–k school, F–k my parents, who the f–k cares? I'm gonna die anyway, so why not die happy?"
Matt is 14.
For Sue, she's not ready to stop taking Xanax, not anywhere close. She said she "is pretty sure" her husband doesn't know she is addicted. But she knows that she is. And now she is getting suicidal because of her shame and her guilt.
"At least if I had cancer I would have an excuse for feeling so sick, you know, cause I feel like I'm dying," Sue said, "but I'm doing it to myself and that's pathetic."
The pharmaceutical industry is now outspending companies like Budweiser, Nike and Campbell Soup for television and print ads. The Internet has also become a ghastly cohort with well more than a million websites that sell prescription drugs to minors and households.
Gruesome statistics include preschoolers as now the fastest growing market for anti-depressants with at least four percent diagnosed with clinical depression.
And over the past decade and a half, the number of teen and young adult (ages 12-25) abusers of painkillers has grown from 400,000 in the mid-'80's to more than two millions in 2000.
Sadly, 17 percent of those ages 60 and older misuse either alcohol or prescription drugs- and with millions of baby boomers hitting their 50s, one can only imagine the future spending on drugs such as Lipitor, Vioxx and Viagra, and the new medications hitting pharmacy shelves each day.
It's difficult to remember when the slightly abnormal and "normal" physical and mental characteristics began hysterically calling for immediate medications in order to stop, start, maintain or prevent anything from happening at all, with some side effects worse than the diagnoses itself.
It is now the norm that pharmaceutical companies and some unethical doctors have now become our legalized drug dealers.
And here we are, from infancy to the elderly, lusting to be doped up and numbed up, pushing drug company profits to pop more than your grandmother's version of Coca Cola in a bottle ever dreamt could effervesce. It's working too.
It is now the norm that pharmaceutical companies and some unethical doctors have now become our legalized drug dealers.
Gone are the days of harmless advertisements that flaunted the latest detergent or face cream so that we may avoid looking dirty or decrepit.
Now we're convinced we are either impotent, sleep-deprived, manic or depressed—even needing medication so that we won't pee as much or so that we can pee more.
Ironically enough, a woman well into her 80's said that trying to stop peeing was just about the only fun she has left, leaving her to tell her doctor a big "No" when attempting to prescribe her yet another medication.
There is even an ad that suggests that "anyone" may be bipolar with symptoms such as fatigue, irritability, sleeplessness, excitability, moodiness and lethargy.
Just bring in your ad from your Ladies Home Journal into your doctor's office and you could get lucky with a load of meds.
Imagine a world where we diagnose ourselves with mental illnesses and disease, and are then prescribed psychotropic medications by general practitioners after viewing ads in Newsweek.
Imagine that we will see ads sandwiched between political campaign commercials with two-minute warnings for side effects, and for drugs that will change the characteristics of our brains and behaviors forever.
This is not from a book by George Orwell, this is now.
It's a good thing that drug commercials didn't exist during the early days of Woody Allen, Rodney Dangerfield, Jack Benny and The Marx Brothers, or we would have missed out on the many wonderful perils and profundity of the human condition.
Woody Allen once aptly said, "Life is full of misery, loneliness, and suffering—and it's all over much too soon."
As human beings, it is only natural that we may feel down, low, foreboding, sleepless, weary, and even unable to hold an erection, and I'm a woman.
No letters please.
But in moderate and even somewhat regular doses, these are normal and expected traits of the human condition. These emotions drive us to write great music, melancholy and thought-provoking novels, significant legislature, ponder with exuberance over social inequalities and wrestle with new inventions and solutions.
It is when we are at our lowest points when we often discover what can be done right in the world and wherein we find the impossible answer and question.
And is also sometimes at our bluest where we see the value in the value-less, and when we see light in the darkest of night, because we stay awake, we "feel," and we struggle through.
Victor Hugo wrote, "Emergencies have always been necessary to progress. It was darkness which produced the lamp. It was fog that produced the compass. It was hunger that drove us to exploration. And it took a depression to teach us the real value of a job."
It is often through suffering and frustration that leads us to new ways of thinking and being, eventually solving what made us feel low and doomed in the first place, without masking tangible emotions before their inception.
Sometimes when coming across ads during a Law and Order episode or reading an article in The New York Times, I wonder if I suffer from the growing list of medical problems I had never heard of.
Surely I must need Prozac along with millions of Americans because I get depressed and overwhelmed whenever bad things happen.
I must also need sleeping pills like Ambien or Lunesta as well as the Suburban Mommy vitamins Xanax and Valium as I have been told I am hyper and nervous. Perhaps I also suffer from adult ADHD or ADD as I have trouble focusing on more than three tasks at a time.
According to data compiled by the U.S. Department if Health and Human Services, an estimated 2.2 million Americans 12 and older start using prescription pain relievers each year for non-medical uses.
These include 15.1 million Americans who abuse prescription drugs, exceeding the combined number who abuse cocaine, hallucinogens, inhalants and heroin. Of those, 2.3 million are teenagers. And from 1992 to 2002, prescriptions for controlled drugs increased more than 150 percent.
Only as recently as 10 years ago, prescription drug ads were outlawed on television, but when the FDA greatly relaxed its rules for drug advertisements, the American culture as we knew it began to change drastically.
Mother's little helper has taken on a whole different meaning. Prozac is one of the leading medications now given to moms and even moms to be; often to treat anxiety, feelings of hopelessness and even premenstrual symptoms.
I was naïve to think these were just part of the job description that comes with motherhood. Our own mothers felt sad at times, and most dealt with these feelings just fine.
It's called life.
This is not to preach any sort of Tom Cruise-esque gospel whatsoever as some women have true chemical imbalances and need medications to get them through the baby blues and bouts of clinical depression. For the most part, human beings are able to defy a lot of horrible circumstances that include feelings of anxiousness, guilt, shame and even depression through being courageous, stoic and fearless.
I imagine my grandmother during the "real" depression and during World War II, when she had two sons who fought in the war, a husband who was away working, and three children still at home to take care of.
She also single-handedly ran a grocery store and the family farm. She was not on any medications except natural and expected doses of integrity, brevity and strength.
Our only hope is to give doctors and pharmaceutical companies the clear message that we will now prescribe ourselves our own doses of responsible character, self-discipline, and intelligent consumerism, with all of the human traits that might apply.
And of course, serious and actualized legislation, political and social activism at the grassroots and federal levels, and a real 'roll-up-the sleeves' attitude and activism is in emergency order.
The late Jazz singer Billie Holiday, who died from an overdose, once said, "Dope never helped anybody sing better or play music better or do anything better. All dope can do for you is kill you, and kill you the long, slow, hard way."
As for Sue, she's still suffering and she is still using.
The last time I talked to her, she was mumbling incoherently about something having to do with hiring a dog walker because she no longer go outside.
As for Sue's friends, one is now taking Lithium as it gives her a different kind of high, while another is stealing her daughters ADHD medication.
And as for Matt, he overdosed on a mixture of alcohol and Oxycotin, leaving all of his baseball cards to his younger brother with a note that read:
Dear Chris,
Just want to to know that I love you, Bro. I'm so sorry to leave you but I just couldn't stand it anymore. You know what I mean. My head was so filled up with bad stuff and I couldn't make any of it go away.
You're going to do great. Keep building stuff cause I know you're going to build the tallest skyscraper in the world one day just like you told me.
Promise me you'll never do drugs, not anything, cause once you start, you can't stop and then you don't know who you are.
Be nice to mom and dad cause you're the big man now, and tell them I'm really sorry. They didn't deserve a son like me.
But you're okay.
Love,
Matt 
Love elephant and want to go steady?

Editor: Renée Picard
Photo: Yogi Setiawan at Pixoto