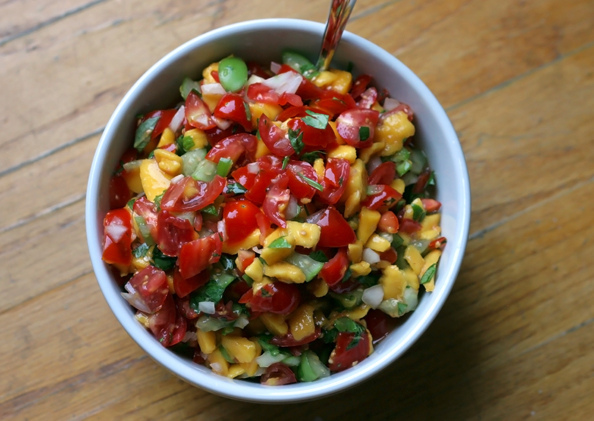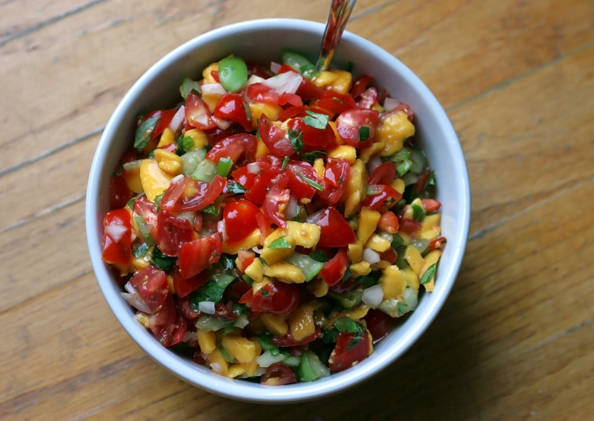 I make this recipe a lot in the summer. When it's too hot to turn the stove on, a dish made from mostly raw, chilled, fresh ingredients can't be beat.
That's probably why my black bean mango salsa is my most requested recipe. It comes together easily and has a great balance of spicy, sweet, tart, crunch and even some protein.
Black Bean Mango Salsa
1 can or small box of unseasoned black beans, drained and rinsed
1 cup corn kernels, frozen and thawed or fresh cut from the cob
2 medium mangoes cut into bite sized dice
1 ripe tomato, chopped
1 avocado, peeled, seeded and diced
½ cup diced red onion
1 green jalapeno seeded and diced finely (if you want it hotter, use more jalapenos or red jalapenos and if you want it really hot substitute habaneros to taste).
½ cup fresh cilantro leaves, lightly chopped
Juice of 1 lime
Dash of hot sauce (such as Sriracha)
Dash of red wine vinegar to taste
Sea salt and fresh cracked black pepper to taste
Combine all ingredients in a large glass or ceramic mixing bowl. Adjust seasonings according to your preference.
This recipe is best when it sits for about an hour before serving so that the flavors can meld and should last two or three days covered in the refrigerator, although I recommend eating it fresh.
Delicious served with tortilla chips, this salsa is also great as a topping for grilled chicken, fish or tofu. It makes a fantastic salad on its own and is good stirred into warm, brown rice.
It's my favorite summer recipe and since it travels well, it's my go-to dish for potlucks too.
Love elephant and want to go steady?
Editor: Catherine Monkman
Photo: Maggie Hoffman/Flickr