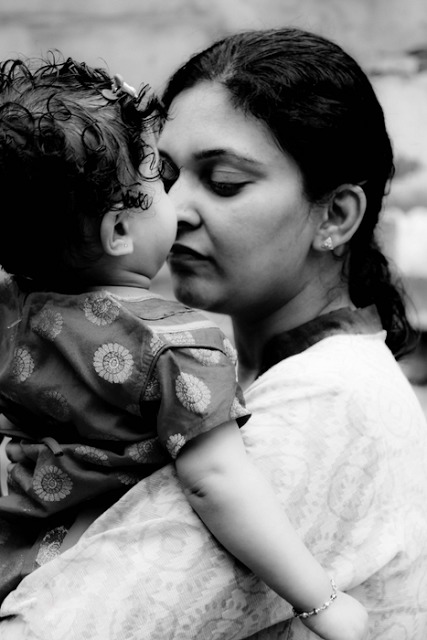 There is no instruction manual or job description for being a parent.
Nothing gives me more anxiety than trying to figure something out without instruction. Since I became a parent nearly seven years ago, I have been bumping and stumbling through, trying to be the best mom I can be, and all the while having no idea if I am doing it right or not.
My first-born was four days old when I had to make my first major parenting decision; the pediatrician was concerned that my infant son had jaundice (something that wasn't caught before we were discharged from the hospital after I gave birth) and he wanted me to bring my little bundle of joy back to the hospital—immediately. It was precisely at that moment when reality hit: I am a grown-up now and I am responsible for another person's life…I am a mom.
Yikes.
You'd think that over time I would have become proficient in the art of parenthood, but to this day I am still figuring it all out.
My son, who is now almost seven years old, is in first grade. Last week he had a Memorial Day concert at school. The principal had previously sent home a memo letting the parents know when the concert was taking place and what the children should wear.
Apparently I only read the first half of the memo where it said the kids should wear red, white, and blue—but I missed the second half where it said the boys should wear dress pants and a collared shirt; I sent my boy to school in shorts and a t-shirt. Oops.
Unfortunately, my kid was already on the bus and heading to school when I realized my error. I felt anxious about the screw up for the first two hours of my day, but when I arrived at the school to see my son sing in the concert, I was relieved to see I was not the only mom who had sent their child to school in casual wear. Almost every first grader was wearing shorts and a t-shirt; I wasn't a terrible mom after all.
I wanted to give every parent sitting in that gymnasium a high-five.
By nature I am an overachieving perfectionist, which means I am always looking to get an A-plus in everything that I do. But parenthood is one of those jobs where I don't always get immediate feedback—or any feedback at all. There is no quarterly grade report or end of year review.
I can do everything right and still feel like I am failing.
That is, unless I pay attention to the little things.
Sure, my house is often messy (toys everywhere!), my kids' faces are sometimes dirty, and more times than not I show up to Cub Scout meetings or swim class with my hair a mess wearing wrinkled yoga pants. I am not one of those moms who has her shit together.
But I love my children and I am literally doing the best I can. And truly that is all that matters.
When my four-year-old leaps into my arms with a big smile on his juice-stained face as I pick him up from preschool, that is my grade report.
When my first-grader gives me a smiley thumbs-up from the outfield of his little league game, that is my feedback.
My kids are happy and healthy, so I am getting an A-plus. I am doing it right.
The incident with the Memorial Day concert where the other parents and I missed the memo about dressing our kids up made me realize that I am not alone. And that I need to stop sweating the small stuff. We are all doing the best we can; no one has their shit together, despite how it may seem.
If you love your children and you give them everything you have, you are not failing as a parent. I might show up disheveled to swim class or Cub Scouts, but I am showing up. My kids don't care if I have my shit together, they care that I am there. What matters to them is that I provide hugs when they are scared and kisses for their boo-boos.
I love my children and I am giving them all that I can, every day of my life.
I will never stop worrying about the well-being of my children and I will never stop feeling like I am in over my head when it comes time to make the big decisions for my kids. But I do recognize that I am not a terrible mom. I am actually a really good mom.
I will continue to make mistakes and will spend the rest of my life trying to figure out how to succeed at parenthood, but that's okay. Life is about learning. No one has an instruction manual. But I am lucky because my kids are teaching me lessons every single day.
The next time you see a mom sitting on the sidelines at soccer, coffee in hand, wearing wrinkled yoga pants, possibly looking like she didn't have time to brush her hair, be sure to give her a sympathetic nod. Or a high-five.
Just like the rest of us, she is simply doing the best she can.
Love elephant and want to go steady?
Apprentice Editor: Hannah Harris / Editor: Catherine Monkman
Photo: Pixoto