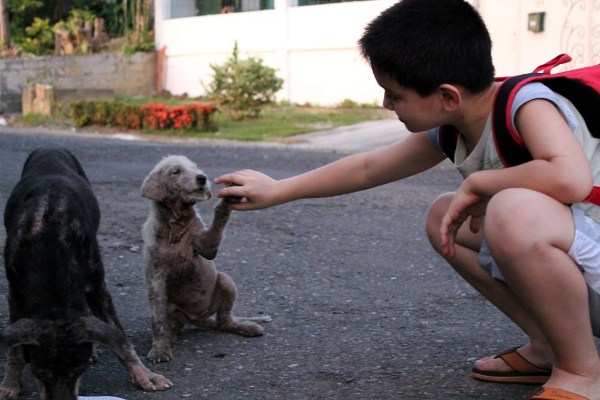 More and more kids today are making their voices heard! Children are making a positive impact in the world, and witnessing their endeavors is both exciting and inspiring!
Last month, I wrote about an 8-year-old who's inspired other children to eat healthy and  a 9-year-old who proposed a piece of legislation, protecting sharks!
Today, I'd like to share the story of a 9-year-old boy who has started a non-profit, no-kill animal shelter project in the southern Philippines!
The boy's name is Ken, and he is an animal lover! His family pets include two rescued cats and a rescued dog, which may have been the inspiration behind Ken's desire to open an animal shelter to help the stray dogs and cats on the streets.
Ken began by creating colorful posters, promoting a "Happy Pets" club, which he would post them all over his neighborhood.
He didn't get much response at first, but that didn't stop him from pursuing his dream. Ken kept hoping and trying, despite his dad telling him, "Only grown ups can raise enough money to start an animal shelter."
Ken did the best he could, with what he had. He would take food out to the stray dogs on his street and feed them.
A few pictures of Ken compassionately feeding the dogs were snapped, and the photos were posted on the internet. When various kind hearts saw these images, they sent money to help Ken feed the stray dogs!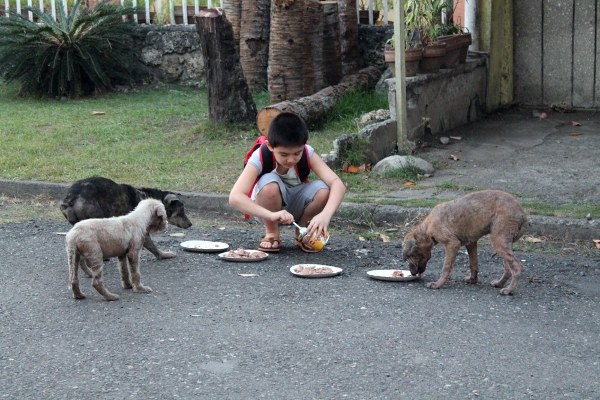 Ken used these kind donations to get the stray dogs off the street, thus creating the Happy Animals Club!
Here is Ken's rendition of the story, from his website:
Some very kind people who saw these pictures donated money to help me care for the dogs. We got enough money to get the dogs I was feeding off the street, feed them high quality canned food, and provide them with veterinary care. They gained a lot of weight, their open wounds healed, and their fur grew back. They also learned not to be scared of humans.
Here's how they look after two months of care at Happy Animals Club. Their names are Blackie, Brownie, and White Puppy and they will be ready for adoption very soon!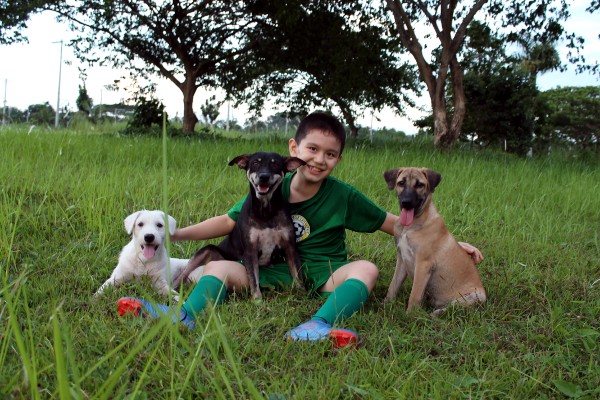 Has your heart melted yet? It gets even better…
As a result of accepting donations through his website, Ken has now been able to lease a 10,000 square-foot lot for one year!
Ken plans to populate the lot with more strays that need care, but he continues to require donations from kind-hearted folks to be able to do so.
Per Ken:
I want to save as many of those dogs as I can from being killed for no reason. My first step was to get a rabies vaccination, on May 8, 2014. The next step will be to raise enough money to care for as many dogs as possible. Also, we need to make a system for finding the dogs good homes when they are ready. This is a big challenge because in the Philippines most people want pure breed dogs. They don't like mutts, even though mutts are just as smart, just as loyal, and just as loving.
Please help me develop the animal shelter by volunteering, holding seminars at your school or company, or donating funds for dog food, care, and the establishment of the shelter. Happy Animals Club is a non-profit organization registered in the Philippines. Happy Animals Club is autonomous and independently managed by me with help from volunteers (currently my dad)… Happy Animals Club is not affiliated with anyone or any organization that supports euthanizing stray dogs.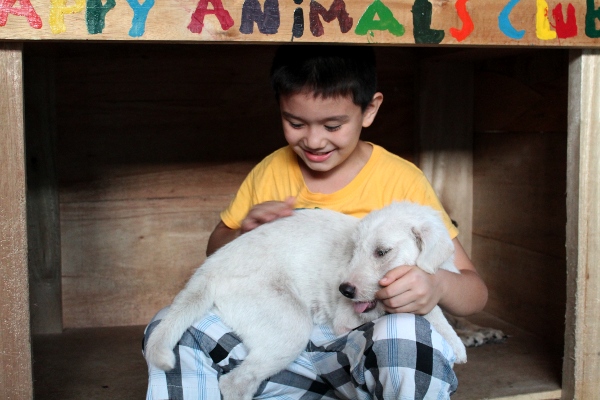 These children today! They are changing the world for the better, before our very eyes.
Love elephant and want to go steady?
Editor: Catherine Monkman
Photos: used with permission, via Happy Animals Club