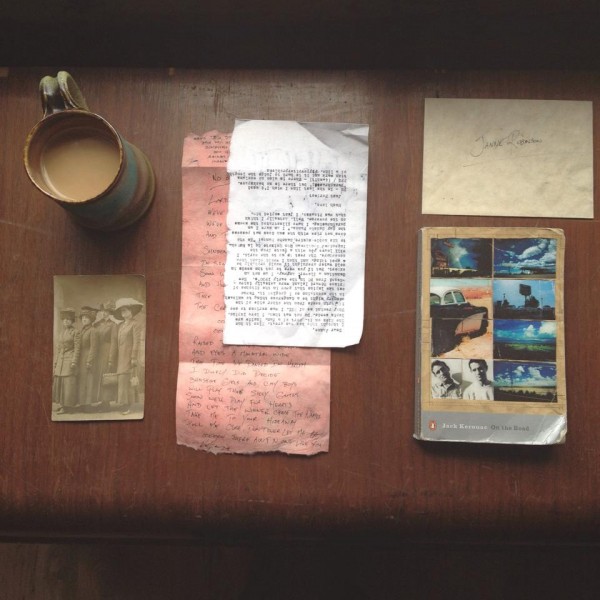 We were in a truck, driving. It was turquoise, and rusty. All a good truck should be. It was the truck I want to own some day, when I know how to tinker with it. It will be sea foam green, and 50 years younger than I.
There was sunshine speckled across your face, and I heard the roll and drawl of each word as it fell from your smile.
You were being very loud and boisterous. I think you wanted to impress me. There were people with us—a woman. She was your lover. I could tell she was filling space within your heart but not taking any space away from us. I liked her.
She was wearing a skirt—it was frilly, had polka dots. She laughed loudly, not always form joy, but to be seen, seen by those who don't always need to see. Perhaps at some point in her life she tried to speak quietly but wasn't heard, and then when she spoke loudly she was. So now she knows no better. I hear her, and it doesn't bother me.
I sat next to you for a little while—she left your side to speak with someone. We sat close, and it was familiar. It always has been, hasn't it?
You showed me the things you have worn in with endearment. Picking them up piece by piece and showing me with sweet might. Watching my reactions, hoping for my face to light up as I held them—and mirror your own.
You were worried it was all too little, or too much.
I am wearing a mustard t-shirt, a few sizes too big and a pair of washed away jean shorts. My hair is curly. I don't like it this way—but you do. It smells like lavender and hasn't been touched by a brush.
I seem to miss you some days, and we haven't quite met yet.
I woke up and wrote you this letter. Before you and I had telephones this would've poured from my heart onto paper, stained with ink and coffee grinds. I would have walked down to the corner store in Roberts Creek, bought a stamp, cringed as I licked an envelope and listened at the "tink" as your letter fell from my hands, starting its journey to you.
You would've checked your mailbox, daily, with just one medium to communicate with me. You would sometimes sit on your porch and wait in anticipation for the mailman, and most days he would hold your hopeful expression in his eyes and nod his head apologetically. And you would sigh, and retreat to your kitchen and wonder if I am missing you, in the way you are missing me.
And then one day when you opened your mailbox a white envelope would sit crookedly, with a Canadian post stamp and your heart would leap in your chest as you tore at it lovingly and devoured these words I wrote to you:
I'd like for you to visit
I say softly
Will you come in August?
August is the fall of summer
Each ray of Sunshine is fleeting and bittersweet
On its way out
Demanding of you to love it even more so because of it
Night nudges gently of fall's arrival
Wool sweaters and socks come out of the closet
I cut kindling for the fire
My hands rediscovering the axe, knots and the smell of freshly cut cedar
The euphoria has worn away by then
We don't run to each other with
Eyes made of love and stars
Instead we lie beside each other
On the dock at dusk
You bring a bottle of whiskey
And I'll build a boat
We can pretend to fish
With no real desire to catch
Or not catch anything
And I'll read us poetry
As we gaze at the sky
For our love isn't hurried
It doesn't shy away unsure
We've played, made love,
had second doubts and made love again
I choose you and you choose me
And we meet here, together.
I curl into your t shirt
the soft one
and press my ice cold feet against your legs
you yelp with shock
And pull away before pulling me closer
Into your red heart
to warm the night away
We leave the lights on
And read for a little while
The moon is so distracting I don't get much done
But you do
Your glasses fall from your nose,
your bear chest breathes
Beeswax candles burn softly
As I hold you in my eyes
The flame flickers
in synchronicity with the beating of my heart
Love elephant and want to go steady?
Editor: Travis May

Photo: Provided by author