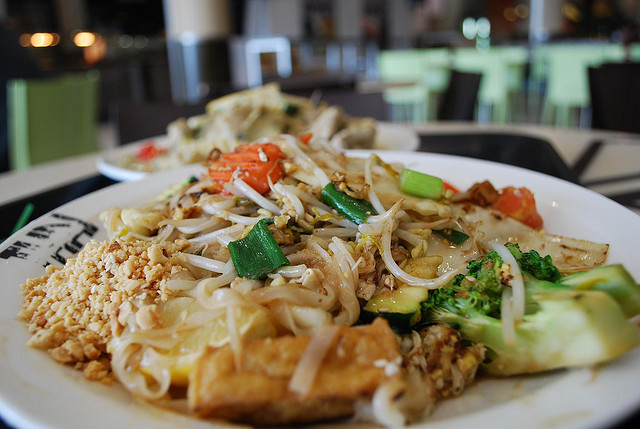 Ingredients:
2 cans full-fat coconut milk 6 oz. red (or green) curry paste 1 T. tamari pinch red pepper flakes 1 red bell pepper, sliced thin 1 lb. broccoli, cut into bite-sized pieces 1 head cauliflower, cut into bite-sized pieces 2 small zucchini, sliced diagonally 3 cloves garlic, minced ½ cup cilantro, chopped 8 oz. cooked Rice noodles 2 lbs. chicken thighs, skirt steak, tempeh or tofu, sliced thin Black sesame seeds
Combine coconut milk, curry paste, tamari and red pepper flakes in a small saucepan and whisk until smooth. Heat on low, stirring occasionally. Meanwhile, bring a large pot of water to a rapid boil and cook rice noodles for 4 minutes. Immediately strain and rinse in cold water until they are no longer hot. (This is to stop the cooking process entirely.) Season protein of choice with salt and pepper. Heat about a tablespoon or so of olive oil in a pan over medium heat and cook until cooked through. Set aside. Saute veggies in the same pan you used for the protein, about eight minutes or until just tender. Add protein and continue to cook for about two minutes. Add sauce and cook for two more minutes. Finally, add the rice noodles and continue cooking until noodles are completely cooked. Sprinkle with black sesame seeds and cilantro.
Love elephant and want to go steady?
Editor: Travis May
Photo: Alpha/Flickr