I sat in silence with my mom for the last month of her life.
The cancer in her brain had left her with the inability to speak. I learned a lot in our quiet time together— Most importantly, that love and truth are often expressed more authentically without words.
Four months after her death, I was still feeling raw from the whole experience and was running into some obstacles. I am a yoga instructor and was having a very hard time with the Universe, which was effecting my teaching. My connection to my mom felt blocked.
I was starting to worry that maybe she wasn't okay.
And then a dear friend from college made a surprise appearance on my doorstep.
Dan felt he had come to my home in Bethlehem, Pennsylvania for a reason—but he was vague about it. He honestly did not yet know his purpose for being there.
One morning, while hiking the Appalachian Trail through Connecticut, Dan was talking with a pastor that told him, "Follow your bliss." That night, Dan stopped at a hostile and when he laid down in his bunk, directly above his head, graffiti read, "Follow Your Bliss." Underneath that: "Namaste" and a map with a star highlighting Bethlehem.
So that was enough to get him here.
We were talking about books and art, which was always so easy to do with Dan. It reminded me, "Oh! Look at my new tattoo! The sun is my mom and she shines down on me. She loved suns and collected them throughout her life." Without a moment's hesitation, Dan pulled something out of his bag and said, "Well, then I'm pretty sure this is for you."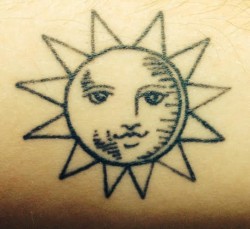 It was a note with a small sun pendant attached to it. Dan said it was given to him by a stranger he'd met on the trail. It read:
"This tiny pendant was made by an old man in India that I sat in silence with for the last month his life. We sat side-by-side and shared many chai tea together. I wrote a short story about him, 'The Tin Man of Udaipue.' Udaipue is an old city in North India, built on lakes, with old palaces and forts. 'The Tin Man' taught me through silence, one of the highest orders of the transmission of truth. So walk lightly Pilgrim, like space moving through space."
This instantly brought a flood of grateful tears and a genuine sense of peace. I felt strongly that my mom conspired to show me an undeniable form of herself to help me through my grief and prove that she was okay.
Psychic channels opened up for some very special coincidences to happen, to the point where it no longer felt like a series of coincidences, but instead something very sacred and magical.
Dan said he felt like he wasn't there for me when my mom was dying and was feeling some guilt about that. Little did he know he was giving me the greatest gift I'd received since her death, and on my parents' anniversary no less. I told him he did something special for me that no one else could have done: he restored my ultimate faith and trust in the Universe.
Love elephant and want to go steady?
Editor: Renee Picard
Images: courtesy of the author