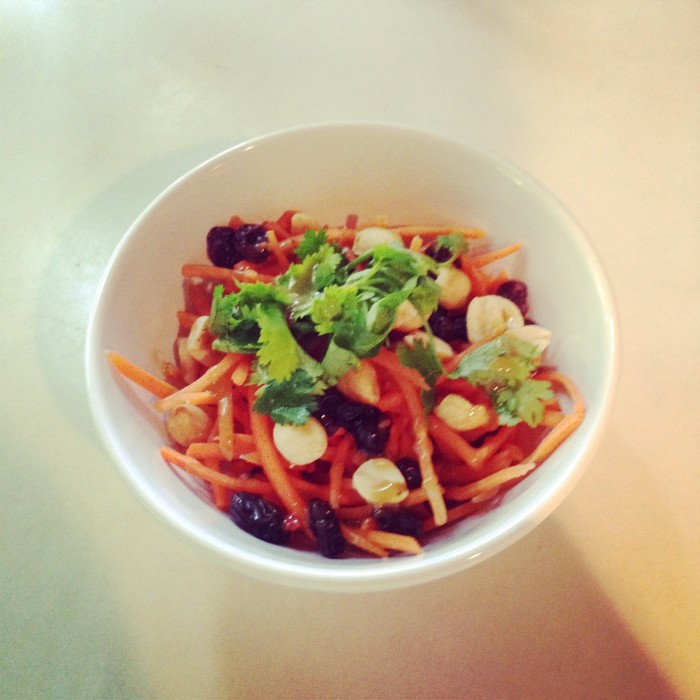 It was so good that I immediately (as in on the way home) bought all the ingredients I needed and set out to recreate it for myself. My version was just as heavenly as the one I tried and is actually so good that I may have even had it for breakfast a few times. Carrot, peanuts, raisins? How can you go wrong?
I get lazy in the summer. I like to eat fresh, raw, cold, crunchy salads most of all and I don't like to spend too much time fooling around in the kitchen and this salad is perfect. It requires very little actual effort and a bare minimum of chopping. The flavors are wonderfully balanced between toasty, salty, sweet and tart and the varied textures include crispy, crunchy, chewy and soft. It's perfect. Seriously. Make this salad right now.
Carrot Raisin Salad with Peanut Vinaigrette
1 10 oz. bag of shredded carrots
2 green onions thinly sliced
1/2 cup raisins (any kind is fine or leave them out if they're not your thing)
1/2 cup dry roasted, lightly salted peanuts (sub sunflower seeds or pumpkin seeds if you're allergic)
1/3 cup of fresh cilantro leaves very roughly chopped or torn
Peanut Vinaigrette to taste. (There are several bottled varieties that are fine. I used Trader Joe's. If you prefer to make yours from scratch, I think Martha Stewart's version is the best, and if you are allergic make it with a substitute nut or seed butter instead.)
Drizzle of toasted sesame oil
Fresh lime wedge
Directions:
Toss the first five ingredients in a salad bowl. Add in peanut vinaigrette to taste (I don't like a lot, so just put in as much as you like). Garnish with sesame oil and lime wedge to serve. Chill or eat immediately. This salad keeps very well covered in the refrigerator and will not get soggy and limp.
Hope you like it as much as I do!
Variations
Add a cup of cubed tofu or a cup of shelled, cooked edamame.
Include lightly blanched broccoli with the carrots.
Meat eaters might enjoy this mixed with sliced, grilled chicken or grilled shrimp.
Top with a handful of coconut flakes.
Sprinkle with sesame seeds and/or crumbled, dried seaweed.
Love elephant and want to go steady?
Editor: Travis May
Photo: Courtesy of Author