The ice bucket challenge was originally created to bring awareness and raise funding to support the battle against Amyotrophic Lateral Sclerosis (ALS) or Lou Gehrig's Disease.
This is a fantastic movement started by a Boston College Baseball captain, Pete Frates, who was diagnosed with ALS in 2012. Someone calls you out to complete the challenge, and if you don't, you have to make a $100 donation to the ALS organization of your choice.
The challenge includes taking a bucket of ice water, dumping it on your head, and calling out three new people to complete the same challenge within 24 hours––all in an effort to raise funding and awareness for ALS. This challenge has blown up on social media and resulted in raising over a million dollars this past weekend alone.
But Tyler Brown & Steve Rosenfield still aren't satisfied. They say that the icebucket challenge has become a game more than a tool to raise funds and awareness for ALS. They want to "flip the script" on the #icebucketchallenge. In the below video, Tyler says, "Instead of dumping ice on your head to avoid a donation, you're actually going to make a donation to avoid getting ice dumped on your head." Take a look.
Amyotrophic lateral sclerosis (ALS), often referred to as "Lou Gehrig's Disease," is a progressive neurodegenerative disease that affects nerve cells in the brain and the spinal cord. Motor neurons reach from the brain to the spinal cord and from the spinal cord to the muscles throughout the body. The progressive degeneration of the motor neurons in ALS eventually leads to their death. When the motor neurons die, the ability of the brain to initiate and control muscle movement is lost. With voluntary muscle action progressively affected, patients in the later stages of the disease may become totally paralyzed.
I had no idea what ALS was until I started researching because of this ice bucket challenge.
From talking to Tyler & Steve, they say this challenge is a great start to raising awareness about ALS, but there needs to be some serious follow through on the donation end.
Tyler Brown's frustration with people losing sight of the challenge's cause stems from personal experience. Currently working with a non-profit, he knows the difficulty of getting awareness and donations for a cause.
"How many people actually mention ALS in their videos? Half? It's awesome to see the success of the challenge so far and I'm stoked to see people just getting up for something, but if we put the donation before the game then they'll get awareness, potentially more money, and the same amount of fun. Non-profits live and die by donations and at the end of the day is the most important part of it all."
To prove his point, they sent me this video of professional golfer and model, Blair O'Neal, as an example:
At the time of this posting, there is no mention of ALS in her video title , description, or even on Blair's website.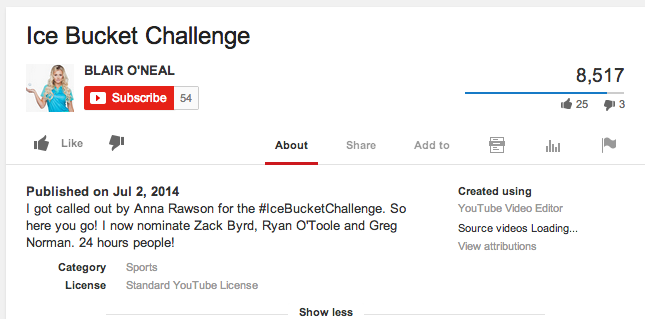 Rather, her website calls out the waterfall of celebrity participants she started––Greg Norman, Matt Lauer and Martha Stewart.

Blair, if you're reading this, please understand this is not an attack on you. Tyler & Steve are simply making a point to draw more effective attention and funds back to the original purpose of the challenge––ALS. Because you have a particularly public voice, they are hoping this encourages you to update your social media channels and maybe even spread the word yourself.
After a bit of research, I discovered an interesting ripple effect to Blair's missing ALS mention. Professional golfer, Greg Norman, accepted and completed the challenge. He called out Matt Lauer. When Matt Lauer completes the challenge on NBC's The TODAY Show, they fail to mention ALS all together. Again, putting emphasis on the game, not the cause. Now, in fairness, they do mention that the ice bucket challenge is to avoid donating $100 to the charity of your choice, but it has nothing to do with ALS and it's a very small part at the end of a short segment. In other words, to Tyler & Steve's point, more attention on the fun of the game rather than the cause behind it.
A follow up segment with Martha Stewart's participation in the ice bucket challenge on The TODAY Show (on-air) doesn't make mention of donating anything to any organization. Tyler & Steve argue that the opportunity for ALS to reach millions is being missed as this has turned into a game for too many.
Steve Rosenfield's frustration with the missing ALS mentions, and the game the ice bucket challenge has turned into, comes from witnessing, first-hand, the disease's heart-breaking evolution through Steve Dezember II's journey. Dezember was diagnosed in 2011, married his wife, Hope, and together, they've been battling ALS through its degenerative stages.
As I am challenged to discover more on the disease, I only uncover more reasons to donate. If you have no experience with ALS (like me), take three minutes to watch the next video. A feature-length documentary on Dezember's journey was recently released and the trailer will give you a good idea on how ALS has affected him and his wife.
If you'd like to learn more about Hope & Steve Dezember's battle, please visit this site.
Rosenfield says, "The ice bucket challenge was a wake-up call, but it needs to go a step further. It brings ALS into the spotlight, but only that something is wrong. I think that's as far as it goes. What its become is just people dumping water on their head."
I'll close with a final video making a very similar point to Tyler & Steve:
Here are a few of the more prominent organizations worth looking into:
Love elephant and want to go steady?
Editor: Travis May
Photo: YouTube Still